Wassaw National Wildlife Refuge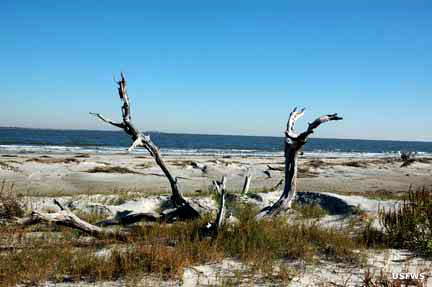 Boneyard Beach on Wassaw National Wildlife Refuge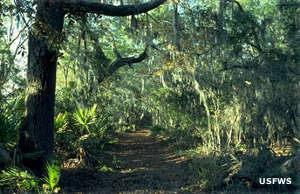 Wassaw National Wildlife Refuge is a 10,530-acre property on the coast of Georgia near Savannah. The habitat is composed of about 74% saltwater marshes and about 24% dunes, beaches and maritime forest. Of the various islands that make up the refuge, only Wassaw and Pine Islands are open to the public but both are only accessible via boat, either private or chartered. There are about 20 miles of dirt roads on the refuge and seven miles of sandy beach.
The Nature Conservancy acquired the property in 1969, paying $1,000,000 to the heirs of the family that had owned it since 1866. The Nature Conservancy deeded the property to the US Fish & Wildlife Service that same year for $1, with the stipulation it become a National Wildlife Refuge.
Wassaw NWR is a day-use only property, open every day of the year from sunrise to sunset except for being closed during 2 five-day deer hunting periods: one in November, the other in December. Fishing is allowed in saltwater areas but not in any freshwater.
Wassaw National Wildlife Refuge

Photos courtesy of the US Fish & Wildlife Service