Harris Neck National Wildlife Refuge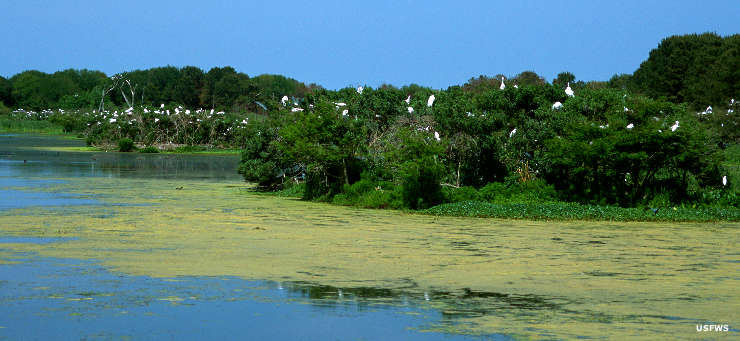 Egrets in the trees at Harris Neck National Wildlife Refuge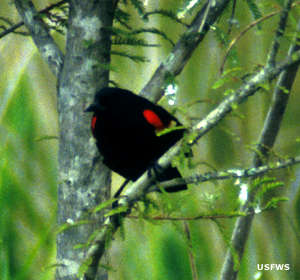 Harris Neck National Wildlife Refuge is a 2,762-acre property on Harris Neck, a coastal peninsula about 30 miles southwest of Savannah. In the 1800's the site was part of a cotton plantation and when the Civil War ended, the plantation owner deeded the land to a former slave. Shortly other black families moved to the area, built homes and operated oyster and crab-processing facilities on the land. An emergency landing field was built in the area around 1929, to be superseded by the construction of a military airfield nearby in 1942. That required purchase of the land and removal of the families who lived there. Black families were paid $26.90 per acre (for about 1,102 acres) and white families were paid $37.31 per acre (for about 1,532 acres, including the site of the Lorillard Mansion). The original plan called for two runways but the Army added a third runway after acquiring a bit more land. In 1962, the cropland, grassland, saltwater marsh and mixed deciduous forest that make up the property were transferred to the US Fish & Wildlife Service to establish Harris Neck NWR.
Today, other than the overgrown runways, munitions bunkers, taxiways, revetments and bore sighting range, the only structure standing on the property is a water fountain near where the Lorillard Mansion once stood. The former residents are also trying to work out a compromise with the federal government that would allow them to return to that expropriated land without overly disturbing the wildlife refuge. This is an area that sees thousands of herons and egrets fly in seasonally. The freshwater ponds and marshes are much-loved by thousands of mallards, gadwalls and teal. This is also a significant nesting area for the endangered wood stork.
Humans can access the refuge via 15 miles of established roads and trails, including a four-mile-long self-guided auto tour. Hunting for deer and feral hogs is allowed on a very limited schedule. Fishing is not allowed in the freshwater ponds or marshes but there are two fishing piers and two boat ramps that lead to some excellent saltwater fishing.
Harris Neck National Wildlife Refuge is administered as part of the Savannah Coastal Refuges Complex. The property is for day use only, open from sunrise to sunset every day of the year. There are no entry fees involved.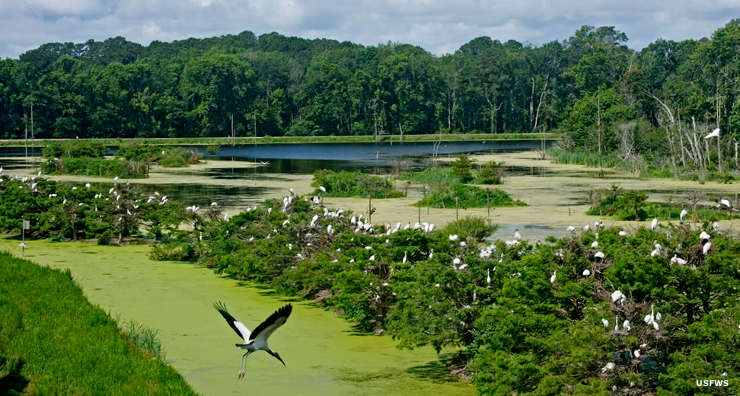 Typical view at Harris Neck National Wildlife Refuge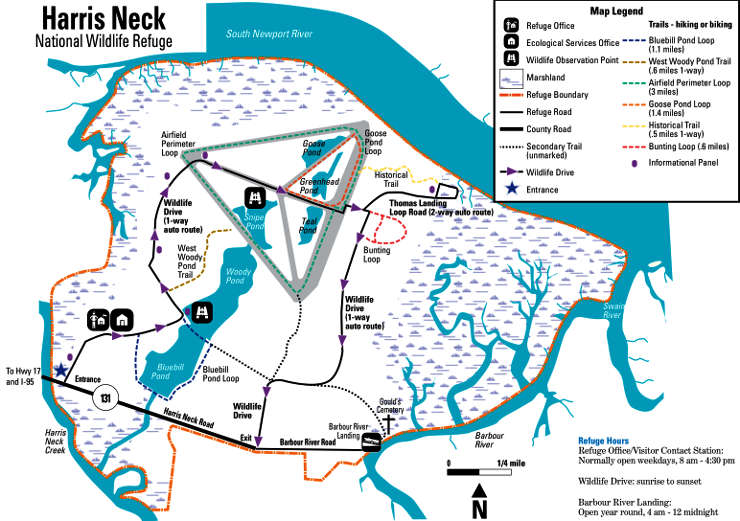 Harris Neck National Wildlife Refuge

Upper photo courtesy of Elizabeth Jackson, US Fish & Wildlife Service
Upper left photo courtesy of Ryan Hagerty, US Fish & Wildlife Service
Lower photo courtesy of Bob Churi, US Fish & Wildlife Service
Map courtesy of the US Fish & Wildlife Service