Fort Frederica National Monument

Fort Frederica National Monument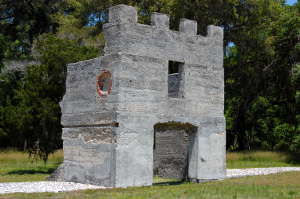 Remains of the barracks
Fort Frederica National Monument is a 218-acre property near Brunswick, Georgia. The fort was built by James Oglethorpe around 1736 to repulse encroachments by Spanish forces based in Florida. At its height, 630 British troops were garrisoned there and about 500 colonists lived in the town that grew up next to the fort. In those years, Georgia was the "Debatable Land," a zone between Spanish Florida and British South Carolina. The fort was named for Frederick, Prince of Wales (1702-1754) but used the feminine to distinguish it from Fort Frederick in South Carolina. Skirmishes were fought with Spanish troops in 1742 at nearby Gully Hole Creek and Bloody Marsh. The British won both, trouncing the Spaniards well enough that they never came back. The garrison was disbanded in 1749 and within ten years, the surrounding village had mostly burned and was completely abandoned.
Fort Frederica was authorized as a National Monument under President Franklin D. Roosevelt in 1936. The Works Progress Administration was surveying and cataloging historic areas and sites across the country in those years, working to identify, document and protect historic resources for future generations and Fort Frederica qualified. In 1947 the Fort Frederica Association in conjunction with the National Park Service sponsored a series of archaeological excavations at the site that provided some deep insights into life in the early days of Georgia.
Fort Frederica National Monument and its Visitor Center are open daily from 9 am to 5 pm, every day of the year except Thanksgiving, Christmas and New Years Days. The nearby Bloody Marsh Unit is open daily from 8:30 am to 4 pm every day of the year except Thanksgiving, Christmas and New Year's Days.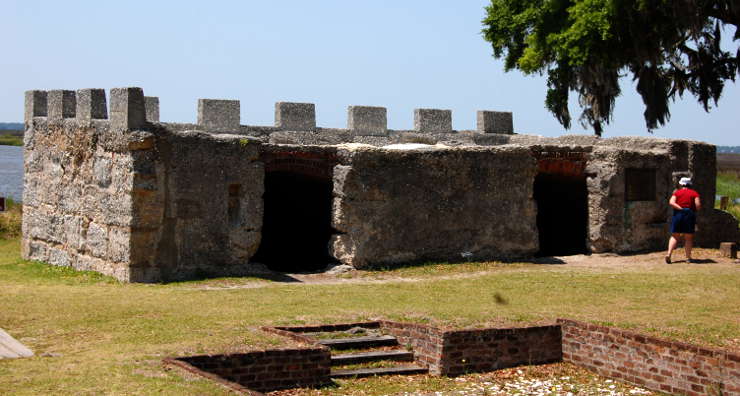 The gunpowder magazine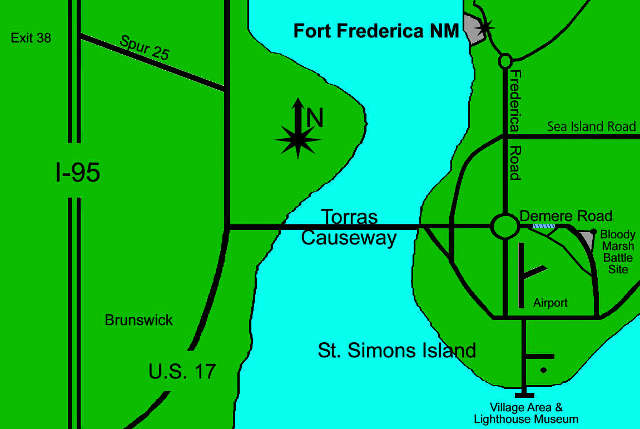 Fort Frederica National Monument
6515 Frederica Road

,

St. Simons Island

,

GA

31522
912-638-3639
Top photo and map courtesy of the National Park Service
Upper left and lower photos courtesy of Jud McCranie,
CCA-by-SA 3.0 License