Blackbeard Island National Wildlife Refuge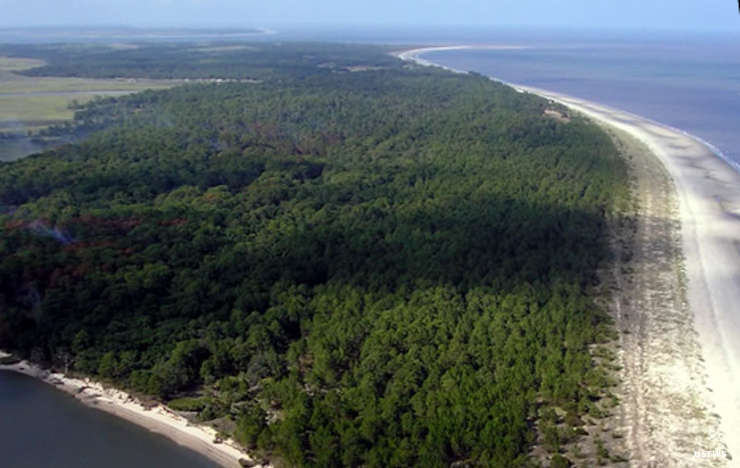 An aerial view of Blackbeard Island National Wildlife Refuge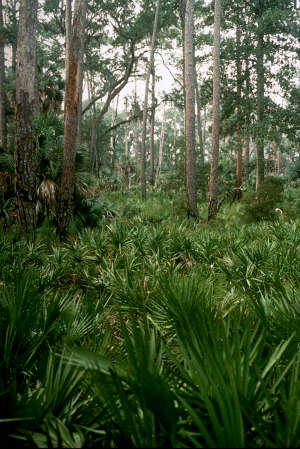 Blackbeard Island National Wildlife Refuge is a 5,618-acre property located among the coastal islands of Georgia. The land was originally acquired by the US Navy in a public auction in 1800. The Navy used the land to harvest oak timber for ship building, until ships were no longer made of wood. In 1924 the property was transferred to the Bureau of Biological Survey to be kept as a preserve and breeding ground for native wildlife and migratory birds. President Franklin D. Roosevelt changed that in 1940 with a proclamation designating the site as the Blackbeard Island National Wildlife Refuge.
The refuge is composed of about 2,000 acres of regularly flooded salt marsh, about 1,163 acres of freshwater open water or freshwater marsh, 2,115 acres of maritime hardwood forest and about 340 acres of sandy beach. The refuge is a regular stopping/resting point for thousands of migratory waterfowl in spring and fall and for thousands of egrets, herons and other migratory wading and shorebirds in summer. American alligators, deer, raccoon, wood stork, shorebirds, piping plover and other shorebirds hang around all year.
About 3,000 acres of the southern half of Blackbeard Island is now designated wilderness. Of that, about 2,470 acres is saltwater marsh, about 450 acres is slash pine intermixed with live oak and about 50 acres is white sandy beach. The northern half of the island has more ephemeral ponds and savannas (ephemeral: seasonal water accumulation) and supports a larger population of birds and other wildlife. A problem on the island has come from the number of feral hogs running wild but Fish & Wildlife is working to eradicate that problem.
Blackbeard Island is accessible only by boat and there are several local tour operators who would be happy to help, for a few bucks of course. The refuge is a day-use only property, open from sunrise to sunset every day of the year. Camping and campfires are not allowed. There is extremely limited primitive camping available during those two three-day deer hunting archery seasons every year (October and December, Georgia hunting license, etc. required). All roads and trails on the island are open for hiking and biking, although biking is not allowed in the wilderness area. Other than what it might cost to get to the island (and return), there are no fees involved (unless you are going to hunt).
Blackbeard Island National Wildlife Refuge is administered as part of the Savannah National Wildlife Refuges Complex.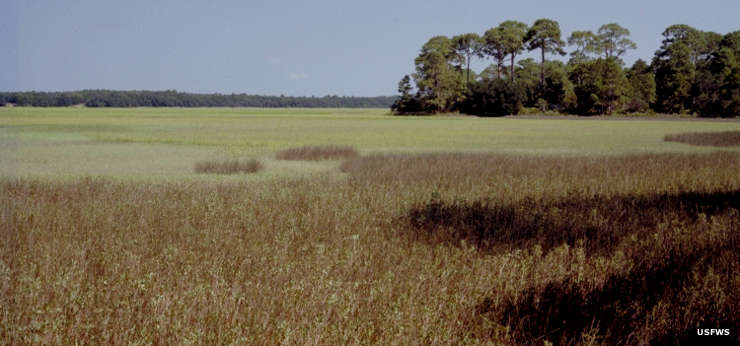 Blackbeard Island Wilderness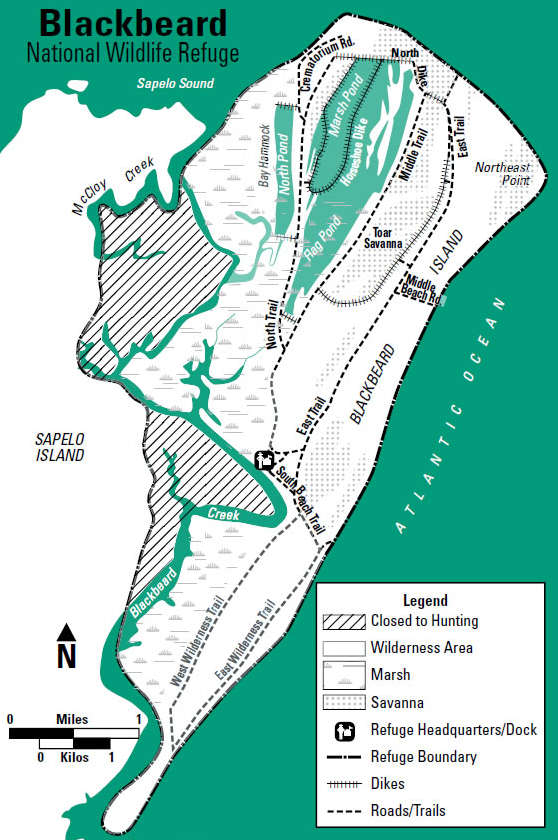 Blackbeard Island National Wildlife Refuge

Upper left photo courtesy of Chris Pease
Other photos and map courtesy of the US Fish & Wildlife Service