Banks Lake National Wildlife Refuge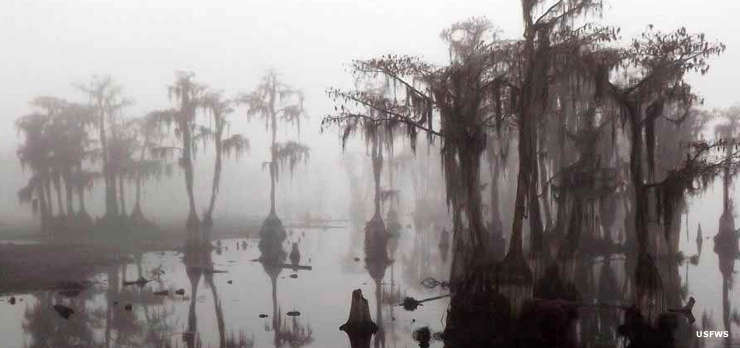 On Banks Lake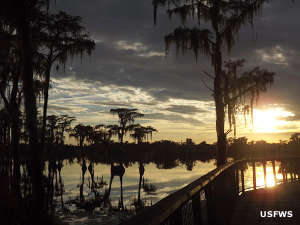 Banks Lake National Wildlife Refuge is a 4,049-acre property established in 1985 for the protection and preservation of migratory and resident wildlife but also to protect and preserve this unique landform: a sink of ancient geologic origin. The "pocosin" (an Eastern Algonquian word meaning "swamp-on-a-hill") was most likely originally established by tidal action, then shaped by thousands of years of climate changes. What we see today is an area of peat build-up that sees seasonal saturation. The ground is nutrient-deficient and grows an understory of carnivorous plants and berry bushes with an assortment of loblolly and longleaf pines and cypress above. About 1,000 acres of the refuge is open water, the rest is marsh, hardwood swamp and pine uplands. This area is known as the Carolina Bay: the second largest freshwater wetland system in Georgia.
Joshua Lee built a low-level dam across a drainage creek on the property in the mid-1800's. That formed the major part of Banks Lake while providing power for a grist mill. That in turn became a local center of population along the stagecoach route between Thomasville and Waycross, Georgia. In the 1920's the E.D. Rivers family tried to use the water for hydroelectric purposes in their efforts at land development in the area. That project never took off so in the 1970's, the family decided to drain the lake and wetlands to harvest the timber. The Nature Conservancy bought the property in 1980 and leased it to the US Fish & Wildlife Service. Fish & Wildlife bought the property outright in 1985 and established the Banks Lake National Wildlife Refuge.
The best way to get around on the refuge is by boat. Just remember that Banks Lake is a shallow blackwater lake studded with many large, moss-draped cypress trees. Fishermen catch bream, largemouth bass, speckled perch and catfish. There are also alligators and several species of turtles in the water. Herons, ibis and egrets are present year round. Ospreys and bald eagles nest in the tops of tall cypress in the middle of the lake. Flycatchers and warblers nest in the hardwood uplands around the lake. Hundreds of sandhill cranes visit every spring and fall.
Banks Lake National Wildlife Refuge is primarily a day-use only property, open from sunrise to sunset every day of the year. At certain times of the year night-fishing is allowed. Facilities include restrooms, a boardwalk and platform, a fishing pier, boat launch and a short hiking trail. Camping, sleeping overnight in vehicles, campfires, airboats, jet-boats and four-wheelers are not allowed. Swimming, water-skiing, jet-skiing and wading are also not allowed. There is no motor size limit on the lake but you are responsible for your wake and underwater stumps are a constant hazard. Banks Lake Outfitters offers snacks, concessions, live bait, tackle, gifts, fishing licenses and kayak and canoe rentals. The refuge is administered by staff at Okefenokee National Wildlife Refuge, 125 miles away. There is no entry fee.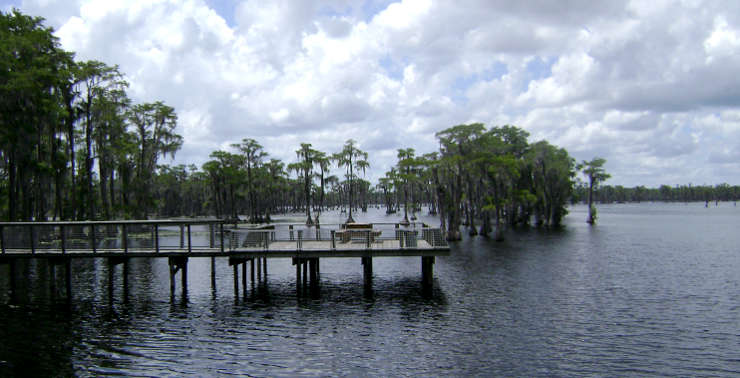 The fishing pier on Banks Lake
Banks Lake National Wildlife Refuge
Lower photo courtesy of Michael Rivera,
CCA-by-SA 3.0 License
Other photos courtesy of the US Fish & Wildlife Service