Wapanocca National Wildlife Refuge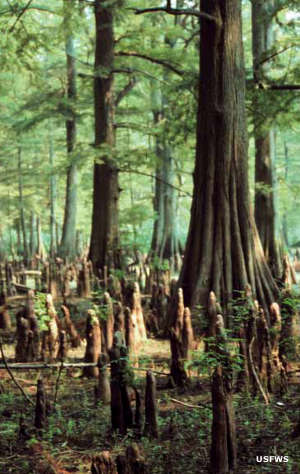 Wapanocca National wildlife Refuge is a 5,485-acre property about 3 miles west of the Mississippi river northwest of Memphis, Tennessee. The centerpiece of the property is an oxbow lake, once a bend in the Mississippi. The land was owned by the Wapanocca Outing club (a prestigious hunting and gun club) since 1886 and was acquired by the Federal government in 1961 for the express purpose of establishing the wildlife refuge. The refuge is a major stopover on the Mississippi Flyway and plays host to thousands of ducks, geese and other waterfowl in fall, winter and spring.
Wapanocca NWR consists of about 600 acres of open water, 1800 acres of swamp, 500 acres of bottomland hardwood forest, about 1200 acres of croplands and about 400 acres of grassland.
Wapanocca National Wildlife Refuge is a day-use only property, generally open every day of the year from sunrise to sunset. The refuge office is open Mondays through Fridays, generally 7:30 am to 4 pm, closed weekends and Federal holidays. Fishing is allowed from March 15 through October 31 only. Sections of the refuge may be closed seasonally so as to protect wintering/migrating waterfowl and songbirds.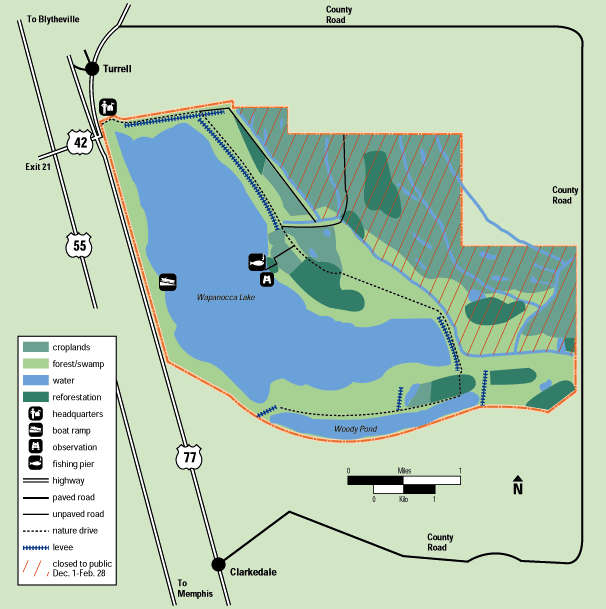 Wapanocca National Wildlife Refuge

Photo and map courtesy of the US Fish & Wildlife Service