Tropic, Utah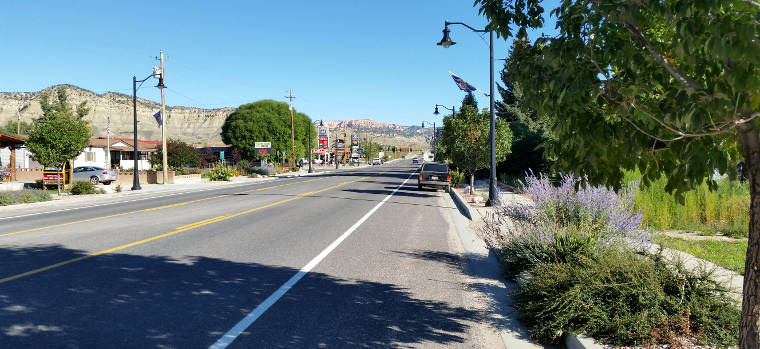 In downtown Tropic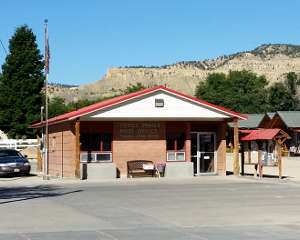 The Tropic Post Office
The big name around Tropic is Ebenezer Bryce. Born in 1830, he was a ship's carpenter in Scotland before he converted to the LDS church and immigrated to the United States at the age of 17 (he was the only member of his family to convert and his family disowned him immediately). Once onshore in the US, he headed straight for Utah and was married in Salt Lake City in 1854 at the age of 24. He and his wife settled in Pine Valley around 1862 and he oversaw the construction of the Pine Valley Chapel in 1868. (The Pine Valley Chapel is now the oldest Mormon chapel still in use.) It was in 1875 that he and his family relocated to the Paria Valley, to the junction of Bryce Creek and Paria River south of what is now Bryce Canyon (named for Ebenezer, of course).
Bryce and Daniel Goulding hand-dug a 7-mile canal from Pine Creek on the Aquarius Plateau to irrigate their farmlands in the East Valley. Bryce also built a road from the Paria Valley up onto the plateau above Bryce Canyon and began a prosperous timber operation there. It's above Bryce Canyon that he also got his culinary water. Over time more settlers arrived and built homesteads in the area but by the time Tropic was officially founded (1892, and named by settlers from Panguitch for the relatively mild climate), Bryce and his family had relocated again, this time to the Mormon settlements in Graham County, Arizona. They lived near Pima, AZ, from about 1880 until he died in 1913 and was buried there. But you'll still find lots of places around Tropic carrying his name.
In 1890 some settlers began the project of digging a 10-mile canal from the East Fork of the Sevier River to the area where Tropic is now. That project was completed in 1892 and the town was officially born overnight. New settlers began moving in and that first ditch (eight feet wide and eighteen inches deep) still brings water to the area of Tropic.
I drove through Tropic in late September, 2015. The town had grown considerably since I was last there in 1965. Of special note was the nicely done Tropic Heritage Museum (Tropic being in the Mormon Pioneer National Heritage Area, funding was available to build and fill the brick building and populate the landscape around it). However, I was there relatively early in the morning (I'd been trying to time my photos at nearby Bryce Canyon to take advantage of reflections from the sun's rays on the hoodoos...) and the Museum wasn't open for business yet.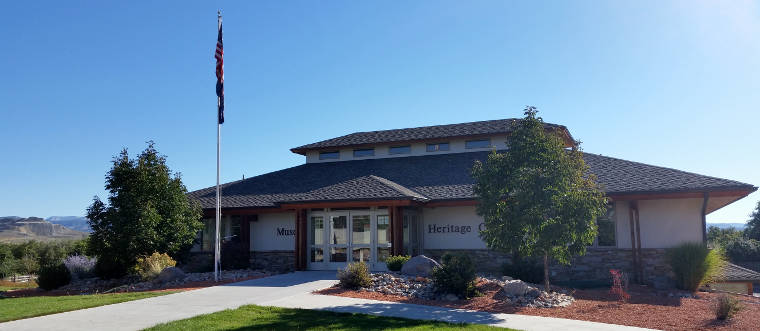 The Tropic Heritage Museum
Fast Facts about
Tropic, Utah
Tropic

, Garfield County,

UT

84776
Latitude:
37.623851°N
Longitude:
112.081747°W
Founded: 1892
Elevation:
6,309'
Education:
High School or Higher: 94.9%
Bachelor's Degree or Higher: 23.2%
Graduate or Professional Degree: 6.9%
Cost of Living Index for Tropic: 81.8
2015 Estimates:
Median Household Income: $50,000
Median Home Value: $164,000
Median Resident Age: 38.2 Years
Major Industries:
Lodging & Food Services, Recreation, Retail Services, Educational Services, Information Services, Government, Agriculture
Unemployed (March 2015): 5.7%
Population Demographics: 2010
Non Hispanic or Latino
514
Hawaiian or Pacific Islander
3
Garfield County Pages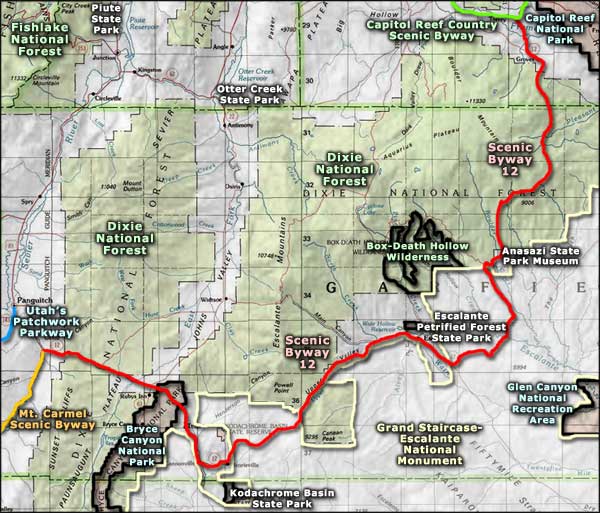 Related Pages
Map courtesy of National Geographic Topo!