Springdale, Utah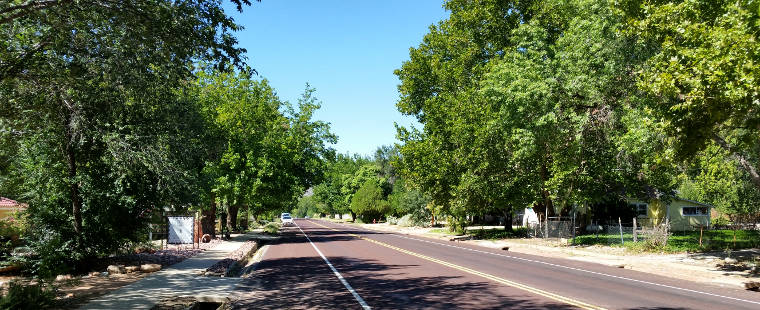 On Main Street in Springdale
Springdale is right at the entrance gate to Zion National Park. The town was originally an agricultural center but all the tourist money floating around that park has changed things. Forbes Traveler magazine named Springdale one of the 20 "prettiest towns" in America in 2008.
The area around Springdale shows evidence of having been inhabited since maybe 500 CE. The Anasazi were in this area until they left around 1200 CE. The first European explorers in the area came with the Dominguez-Escalante Expedition, looking for a new route to connect Santa Fe, New Mexico with Monterey, California in 1776. Springdale itself wasn't settled until the fall of 1862 when a group of Mormon pioneers entered the canyon and liked what they saw enough to stay and build homes.
In the beginning, Springdale was an agrarian community where folks had to go a few miles over to Rockville to experience any kind of modern amenities. Things just seemed to take a long time to get to Springdale. It was 1912 when the first automobile drove into Springdale. By 1917, tourists were coming down from Salt Lake City to stay a few days at Wylie Way Camp, one of the first tourist facilities in Zion Canyon.
Mukuntuweap National Monument was dedicated on September 15, 1920. A few years later, the national monument became Zion National Park. After that is when gasoline, pavement, electricity, tourist camps and telephones arrived. The Zion-Mt. Carmel Highway & Tunnel was opened in 1930 and there was finally a way to reach the canyon and Springdale from the east. That brought the world in. It also forced Springdale to incorporate (in 1959) so that the local folks might have some say in how their little town was being developed...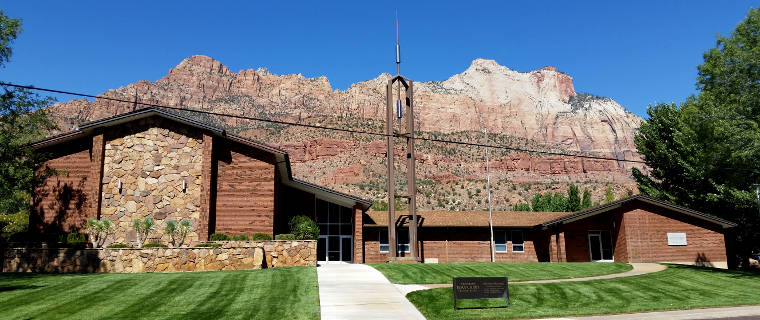 An LDS church in Springdale
Fast Facts about
Springdale, Utah
Springdale

, Washington County,

UT

84767
Latitude:
37.1845°N
Longitude:
112.9996°W
Founded: 1862
Incorporated: 1959
Elevation:
3,898'
Education:
High School or Higher: 88.7%
Bachelor's Degree or Higher: 27.1%
Graduate or Professional Degree: 6.5%
Cost of Living Index for Springdale: 88.5
2015 Estimates:
Median Household Income: $35,550
Median Home Value: $455,900
Median Resident Age: 43.9 Years
Major Industries:
Lodging & Food Services, Entertainment & Recreation, Construction, Travel Services, Retail Services, Professional Services, Educational Services, Agriculture, Government, Religious Organizations
Unemployed (March 2015): 4.6%
Population Demographics: 2010
Non Hispanic or Latino
470
Hawaiian or Pacific Islander
0
Washington County Pages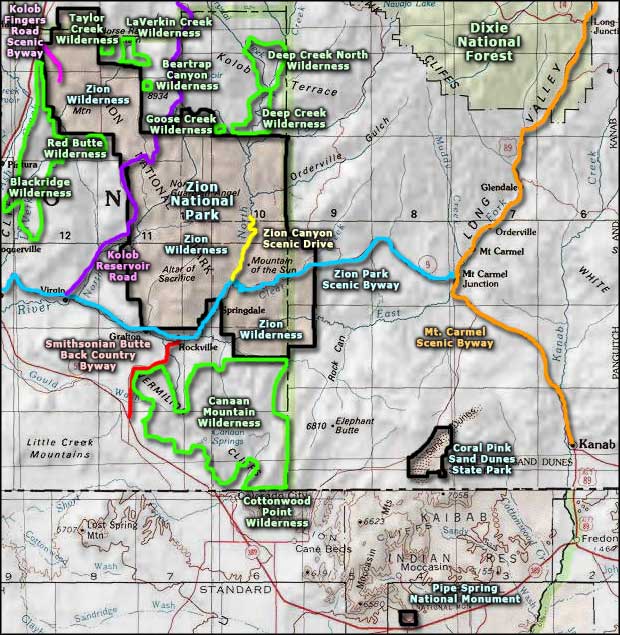 Related Pages
Map courtesy of National Geographic Topo!