Millard County, Utah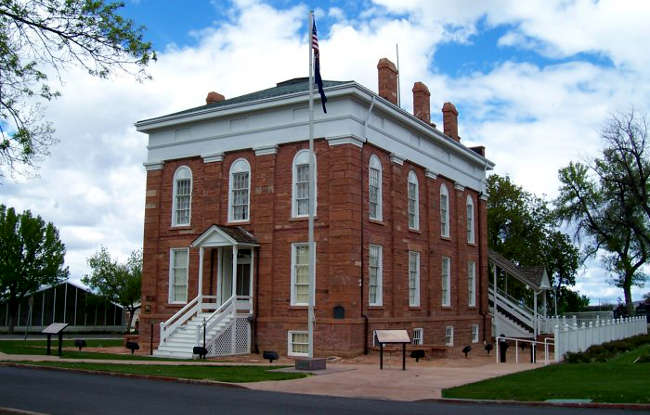 Territorial Statehouse State Park Museum
Millard County is in west central Utah with the Fishlake National Forest on the east side and Nevada on the west side. Millard County is home to the Desert Range Experimental Station, Fort Deseret and the Gunnison Massacre Monument.
In the early 1850's, Utah applied to Congress for statehood and the LDS leaders decided to build a capital city near the center of the state. Fillmore is the location chosen for the capital. So the town and the county were then designated and named for the 13th President: Millard Fillmore. Their application was denied but they began to build a Territorial Statehouse anyway. In 1858, the Territorial capital was moved to Salt Lake City.
Millard County contains 6,589 square miles of land and 239 square miles of water. The county seat is Fillmore. Near the center of Millard County is Sevier Lake, a nearly dry remainder of the ancient Lake Bonneville that at one time covered most of the state of Utah and a good bit of Nevada.
Fast Facts about Millard County, Utah
Types of Jobs:
Private Sector, wages or salary: 68%
Government Sector: 20%
Unincorporated, Self-Employed: 10%
Homemaker, Unpaid: 2%
Population Density: 2 People per Square Mile
Cost of Living Index for Millard County: 81.8
Median Resident Age: 29.9 Years
2015 Estimates:
Median Household Income: $43,600
Median Home Value: $126,900
Major Industries:
Educational Services, Agriculture & Forestry, Utilities, Health Care, Lodging & Food Services, Government, Construction, Transportation Services, Retail Services, Social Services
Population Demographics: 2010
Non Hispanic or Latino
10,900
Hawaiian or Pacific Islander
15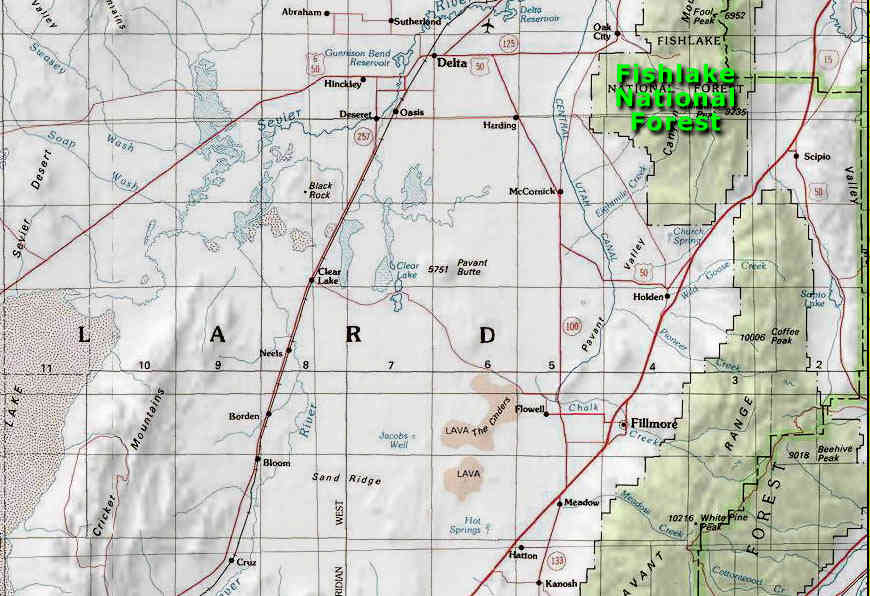 Map of Millard County
Millard County Related Pages
Upper photo courtesy of Ben McKune
Map courtesy of National Geographic Topo!