Tularosa, New Mexico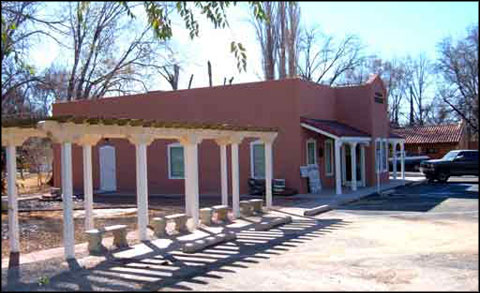 Tularosa Public Library
Tularosa sits in the bottom of the Tularosa Basin, a large valley along the western flanks of the Sacramento Mountains. The village is noted for the large number (and size) of cottonwood shade trees and for the local folks' efforts to preserve the adobe style architecture of its Territorial past. The village motto is "City of Roses."
The name comes from the Spanish description of the rose-colored reeds growing along the banks of the Rio Tularosa. It was that water supply that attracted the first settlers in 1860 but the Apaches soon drove them out. After a historic battle with the Apaches at nearby Round Mountain, Hispanic farmers from the Rio Grande valley did finally settle in and start farming and ranching. The Town of Tularosa was officially established in 1863. That original plat included 49 blocks and distributed and recorded the existing water rights. The first irrigation system established by those pioneers still provides water through the town and contributes to the growth of the cottonwoods and the private gardens and landscaping that give much of Tularosa its character. In 1979, all of the area included on that original plat was entered into the National Register of Historic Places as a bona fide historic district.
In the early 1900's the El Paso & Northeastern Railroad (now part of the Southern Pacific Railroad) built a line south from the coal mines at Dawson, New Mexico, passing through Tucumcari, Carrizozo and Tularosa to bring coal to the steel mill in El Paso. That was expected to bring more growth to the Tularosa area but didn't. It did make shipping the local agricultural products out easier.
Fast Facts about
Tularosa, New Mexico
Tularosa

, Otero County,

NM

88352
Latitude:
33.076282°N
Longitude:
106.021699°W
Founded: 1863
Elevation:
4,508'
Education:
High School or Higher: 75.9%
Bachelor's Degree or Higher: 9.1%
Graduate or Professional Degree: 6.3%
Cost of Living Index for Tularosa: 81.9
2014 Estimates:
Median Household Income: $31,500
Median Home Value: $103,000
Median Resident Age: 42.8 Years
Major Industries:
Government, Construction, Health Care, Entertainment & Recreation, Lodging & Food Services, Retail Trade, Social Services, Manufacturing
Unemployed (August 2014): 5.7%
Population Demographics: 2010
Total Population
2,842
Males
1,382
Females
1,460
Population by Age
Under 18
692
18 & over
2,150
20-24
160
25-34
280
35-49
498
50-64
605
65 & over
541
Population by Ethnicity
Hispanic or Latino
1,532
Non Hispanic or Latino
1,310
Population by Race
White
2,058
African-American
18
Asian
11
Native American
175
Hawaiian or Pacific Islander
3
Other
395
Two or more
182
Photo of Tularosa Public Library courtesy of Wikipedia userid AllenS