Tucumcari, New Mexico
Founded in 1901, Tucumcari is the county seat of Quay County in eastern New Mexico. Originally, Tucumcari was the location of a railroad siding close to the town of Liberty. Liberty is famous as the site of a post office and store robbery by Tom "Black Jack" Ketchum and his gang. The railroad opted to bypass Liberty and built a construction camp that became known as "Six Shooter Siding," because of the numerous gunfights there. When the camp grew into a permanent settlement, it's name was changed to Tucumcari. Eventually, most of Liberty's residents bought land from the railroad near the railroad siding and became residents of Tucumcari.
Tucumcari has gotten most of its fame from being located on the Mother Road: Route 66 (whose transportation duties have since been taken over by the I-40). But many of the hotels, motels, diners and service stations that were built since the 1930's in this largest town on the highway between Amarillo, Texas and Albuquerque, New Mexico, are still in operation, despite the competition coming from the newer chain motels and restaurants that have been constructed since the I-40 made its debut along the southern outskirts of Tucumcari.
From 1959 to 1966, the TV show Rawhide (starring Clint Eastwood) was filmed around Tucumcari. In 1965, the Sergio Leone movie For a Few Dollars More (starring Clint Eastwood, Lee Van Cleef and Gian Maria Volonte) had one of its first scenes set in Tucumcari, which was a mistake since the action of the movie takes place well before Tucumcari was founded. A 1971 movie named Two-Lane Blacktop (starring Dennis Wilson, Warren Oates and James Taylor, all of pop music fame) had a scene filmed on US Highway 54 just northeast of Tucumcari.
Tucumcari is promoted these days as "The Gateway City of Murals" because of all the large murals painted on the sides of buildings throughout the town. There are 2 excellent swimming, fishing and water-skiing lakes within a half-hour drive, a world-class Dinosaur Museum, golf course, Historical Museum, and direct access to National, State and Historic Scenic Byways. Tucumcari is also home to Mesalands Community College with its innovative North American Wind Research and Training Center.
The population of Tucumcari is down more than 10% since 2000.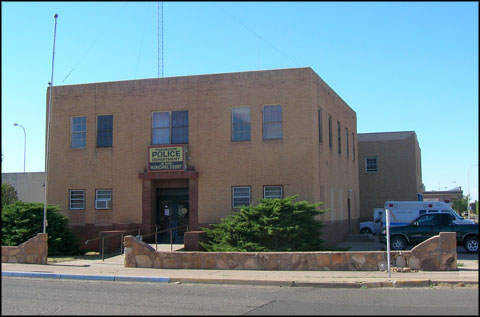 The Tucumcari Police Station
Fast Facts about
Tucumcari, New Mexico
Tucumcari

, Quay County,

NM

88401
Latitude:
35.1694°N
Longitude:
103.7255°W
Founded: 1901
Elevation:
4,091'
Education:
High School or Higher: 69.4%
Bachelor's Degree or Higher: 13.0%
Graduate or Professional Degree: 6.1%
Cost of Living Index for Tucumcari: 80.1
2014 Estimates:
Median Household Income: $28,360
Median Home Value: $59,120
Median Resident Age: 39.4 Years
Major Industries:
Lodging & Food Services, Educational Services, Construction, Health Care, Transportation Services, Government, Agriculture, Social Services, Retail Services, Finance & Insurance Services
Unemployed (August 2014): 6.6%
Population Demographics: 2010
Total Population
5,363
Males
2,570
Females
2,793
Population by Age
Under 18
1,287
18 & over
4,076
20-24
269
25-34
603
35-49
986
50-64
1,053
65 & over
1,004
Population by Ethnicity
Hispanic or Latino
3,078
Non Hispanic or Latino
2,285
Population by Race
White
4,363
African-American
92
Asian
67
Native American
67
Hawaiian or Pacific Islander
4
Other
546
Two or more
224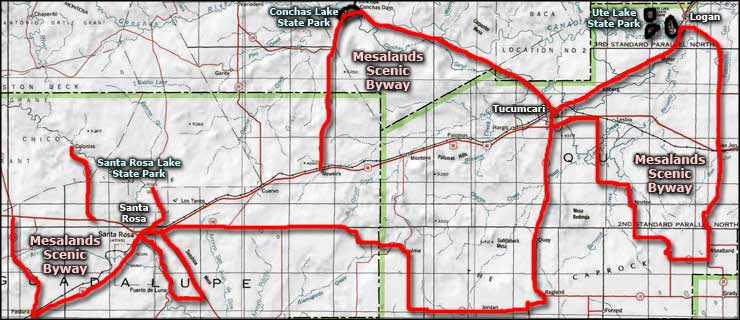 Related Pages
Map courtesy of National Geographic Topo!