Truth or Consequences, New Mexico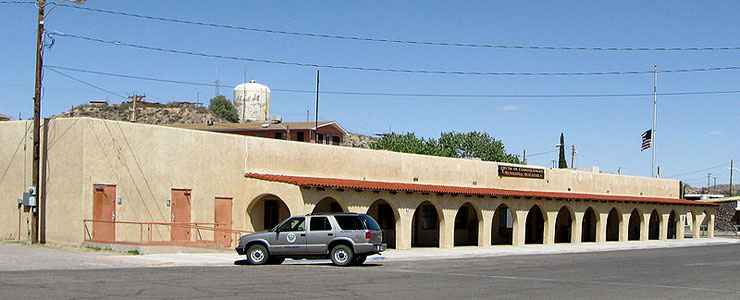 Truth or Consequences City Hall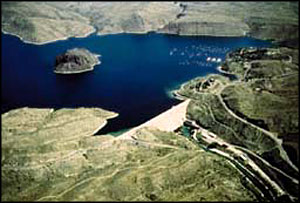 Truth or Consequences was originally named Hot Springs but in 1950, Ralph Edwards, host of a popular radio show called Truth or Consequences, announced that he would travel to and do the radio program from the first town that named itself after the radio show. For the next 50 years, on the first weekend in May, Ralph Edwards kept his word and came to the town formerly named Hot Springs and recorded the show. Local folks named that weekend "Fiesta" and the events included a stage show, a parade and a beauty pageant.
In the late 1800's the first spa in the area was built over the Geronimo Springs on the John Cross Ranch. It slowly built up a local reputation but real settlement (and business) didn't arrive until construction was started on the nearby Elephant Butte Dam in 1912. The dam was completed in 1916 and the reservoir was filling. The Town of Hot Springs was incorporated in 1916 and became the county seat of Sierra County in 1937.
Before World War II, there were about 40 spa facilities in Truth or Consequences but now there are only 8. Five of them get their hot mineral water from wells and three use free flowing hot springs. In the 1980's the New Mexico Department of Energy and Minerals created 2 geothermal pilot projects in Truth or Consequences. Because of the presence of all the hot springs and spas, T-or-C has built up a sizable population of New Age (and other) healers and practitioners.
Truth or Consequences is located in central New Mexico on the Rio Grande between the Elephant Butte and Caballo Reservoirs and is a popular tourist destination and retirement location (partly because housing is reasonably inexpensive and partly because the winter climate is so mild).
The population of Truth or Consequences is down more than 10% since 2000.
Fast Facts about
Truth or Consequences, New Mexico
Truth or Consequences

, Sierra County,

NM

87901
Latitude:
33.1336°N
Longitude:
107.2529°
Founded: 1916
Elevation:
4,245'
Education:
High School or Higher: 74.2%
Bachelor's Degree or Higher: 13.2%
Graduate or Professional Degree: 4.9%
Cost of Living Index for Truth or Consequences: 82.8
2014 Estimates:
Median Household Income: $23,400
Median Home Value: $78,900
Median Resident Age: 48.0 Years
Major Industries:
Lodging & Food Services, Health Care, Construction, Government, Educational Services, Finance & Insurance Services, Retail Services, Real Estate Services
Unemployed (August 2014): 5.3%
Population Demographics: 2010
Total Population
6,475
Males
3,201
Females
3,274
Population by Age
Under 18
1,104
18 & over
5,371
20-24
310
25-34
523
35-49
1,002
50-64
1,555
65 & over
1,863
Population by Ethnicity
Hispanic or Latino
1,824
Non Hispanic or Latino
4,651
Population by Race
White
5,551
African-American
41
Asian
32
Native American
121
Hawaiian or Pacific Islander
2
Other
491
Two or more
237
Photo of T or C City Hall courtesy of Wikipedia userid AllenS
Upper left photo of Elephant Butte Dam and Reservoir courtesy of the USGS