Tierra Amarilla, New Mexico
Tierra Amarilla was originally settled as part of the Tierra Amarilla Land Grant, a land grant given to Manuel Martinez and a group of settlers from Abiquiu by the Mexican Government in 1832. Due to incessant raids by Utes, Navajos and Jicarilla Apaches, they were unable to make a permanent settlement until the 1860's. By then the countryside had been in American hands for 15 years and it was too late for many holders of Mexican title deeds: Congress had required all those deeds to be proven and registered in 1860. Congress did grant private deeds to sections of the land but the land patent for the community grant was declared null and void as it had never been adequately surveyed. Somewhere in that time period, some of Manuel Martinez' heirs had begun selling some of the land to various Anglo speculators.
In 1880, Thomas Catron sold a good chunk of the disallowed grant to the Denver & Rio Grande Railroad. The railroad built their San Juan line through the area and established a service center at Chama. By 1883, Catron had completed the legal acquisition of the entire grant short of the original villages and their associated agricultural fields. Over the years, the descendants of Manuel Martinez have sued in various courts for the return of the land but the final case was resolved in 1950 and their claims were fully denied.
Las Nutrias was the name of the settlement when it was first established in 1862 but when the first post office was established in 1866, that name became Tierra Amarilla. Then the post office was closed in 1868 and reopened in 1870, again as Tierra Amarilla. Come 1880 and the Territorial Legislature located the Rio Arriba county seat in the town and officially made the name Tierra Amarilla. In 1881, the railroad officially arrived at Chama from Antonito, Colorado and the isolation the area had enjoyed for many years began to end.
Although the area has calmed down some now, back in 1967, Reyes Tijerina and the Alianza Federal de Mercedes were fighting a shooting war with county, state and federal officials in Tierra Amarilla. That led to the area being occupied by the New Mexico National Guard for several months. The whole thing started when Tijerina and members of the Alianza tried to make a citizen's arrest of the county attorney "to bring attention to the unscrupulous means by which government and Anglo settlers had usurped Hispanic land grant properties." Shooting started and the Alianza group headed off south into the countryside with two prisoners as hostages. A sheriff's deputy was badly injured and a county jail guard was shot in the process. When Tijerina was finally caught, he was tried, convicted and sentenced to serve less than 3 years for his part in the melee.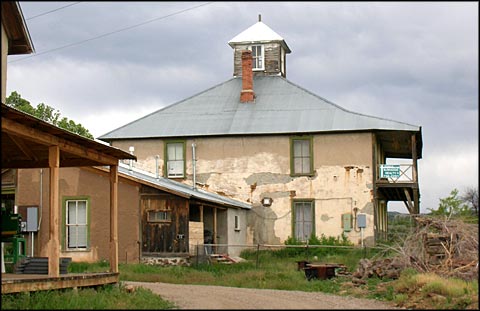 This was formerly a boardinghouse just off downtown Tierra Amarilla
Fast Facts about
Tierra Amarilla, New Mexico
Tierra Amarilla

, Rio Arriba County,

NM

87575
Latitude:
36.7°N
Longitude:
106.55°W
Unincorporated
Elevation:
7,524'
Education:
High School or Higher: 75.2%
Bachelor's Degree or Higher: 17.0%
Graduate or Professional Degree: 7.7%
Cost of Living Index for Tierra Amarilla: 86.5
2014 Estimates:
Median Household Income: $44,440
Median Home Value: $152,980
Median Resident Age: 41.1 Years
Major Industries:
Educational Services, Lodging & Food Services, Government, Agriculture, Health Care, Arts & Entertainment, Real Estate Services, Finance & Insurance Services, Utilities
Unemployed (August 2014): 7.3%
Population Demographics: 2010
Total Population
382
Males
241
Females
141
Population by Age
Under 18
70
18 & over
312
20-24
39
25-34
53
35-49
92
50-64
65
65 & over
53
Population by Ethnicity
Hispanic or Latino
354
Non Hispanic or Latino
28
Population by Race
White
251
African-American
4
Asian
1
Native American
4
Hawaiian or Pacific Islander
0
Other
115
Two or more
7