Taos Pueblo, New Mexico
San Geronimo de Taos Pueblo is one of the oldest continuously-inhabited settlements in North America. It earned its status as a World Heritage Site the hard way: by enduring nearly 600 years of tribal warfare and then surviving a massive invasion by blood-thirsty European savages, an invasion and occupation that continues still (about 100 years ago Teddy Roosevelt stole over 100,000 acres of the Taos Indians most sacred land and not all of it has been returned yet). Technically, Taos Pueblo is still at war with the United States Government. On a personal level, these are great and proud people working hard to maintain their language and sacred traditions in the midst of an onslaught of global tourists.
When these structures were first built, there were no windows or doors in the walls: all access was through holes in the roofs. That way, if the pueblo came under attack the folks could retreat inside their walls and pull their ladders up and away for protection. The windows and doors didn't come until the 1800's.
For 500 years before the Spanish came, Taos Pueblo was a major trading center in the southwest. Trails went east and north out of here heading up along the Sangre de Cristo's and Front Range into Wyoming and Montana. Other trails went west to the cities in Chaco Canyon, Mesa Verde and the Hopi Mesas. Still other trails went south to the Aztec and Maya lands of central Mexico and Central America. The early Spaniards liked the area around Santa Fe but the American and French mountain men and trappers much preferred the environs of Taos Pueblo.
The population of Taos Pueblo is down more than 10% since 2000.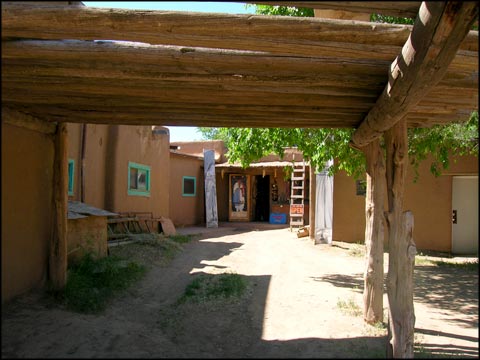 Entry to another shop
Fast Facts about
Taos Pueblo, New Mexico
Taos Pueblo

, Taos County,

NM

87571
Latitude:
36.448735°N
Longitude:
105.553979°W
Elevation:
7,119'
Education:
High School or Higher: 79.9%
Bachelor's Degree or Higher: 7.8%
Graduate or Professional Degree: 2.6%
Median Resident Age: 42.3 Years
Cost of Living Index for Taos Pueblo: 85.9
2014 Estimates:
Median Household Income: $27,900
Median Home Value: $95,300
Major Industries:
Lodging & Food Services, Educational Services, Government, Health Care, Social Services, Manufacturing, Arts, Entertainment & Recreation, Construction
Unemployed (August 2014): 8.4%
Population Demographics: 2010
Total Population
1,135
Males
575
Females
560
Population by Age
Under 18
261
18 & over
874
20-24
74
25-34
106
35-49
242
50-64
252
65 & over
175
Population by Ethnicity
Hispanic or Latino
63
Non Hispanic or Latino
1,072
Population by Race
White
47
African-American
1
Asian
0
Native American
1,056
Hawaiian or Pacific Islander
0
Other
12
Two or more
19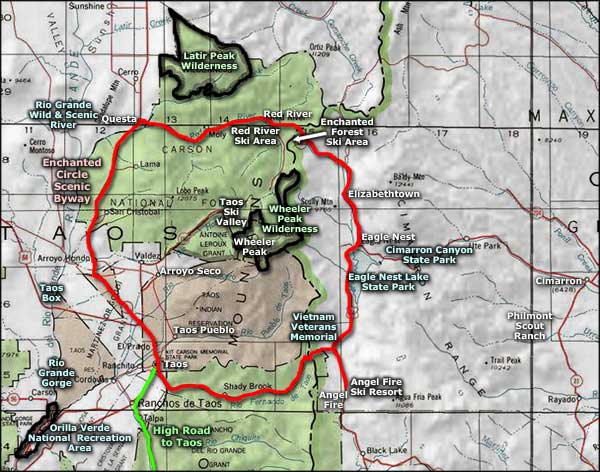 Related Pages
Map courtesy of National Geographic Topo!