Taos County, New Mexico
Taos County is located in north central New Mexico on the western slopes of the Sangre de Cristo Mountains and straddling the Rio Grande Valley. Taos County contains 2,203 square miles of land and 1 square mile of water. The county seat and largest town is Taos.
Taos County is also home to the Taos Pueblo Indians and several Spanish and Mexican Land Grants. That means this is an area of New Mexico that saw a lot of early European settlement... and significant problems between the Europeans and the natives. Those problems were aggravated when the Americans arrived in 1847: a state of war appeared and the Taos Indians have still not signed an agreement of peace with the United States Government.
Taos County is home to the Latir Peak and Wheeler Peak Wilderness areas, Rio Grande Wild & Scenic River, Taos Box, Rio Grande Gorge, Orilla Verde National Recreation Area, Sipapu Ski Resort, Taos Ski Valley and Red River Ski Area. A good part of the county is accessed via the Enchanted Circle Scenic Byway and the High Road to Taos.
Fast Facts about Taos County, New Mexico
Types of Jobs:
Private Sector, wages or salary: 65%
Government Sector: 19%
Unincorporated, Self-Employed: 15%
Homemaker, Unpaid: 1%
Cost of Living Index for Taos County: 92.7
Median Resident Age: 39.5 Years
2014 Estimates:
Median Household Income: $33,730
Median Home Value: $230,900
Major Industries:
Lodging & Food Services, Educational Services, Health Care, Construction, Government, Arts, Entertainment & Recreation, Agriculture & Forestry, Professional Services, Social Services
Population Demographics: 2010
Total Population
32,937
Males
16,211
Females
16,726
Population by Age
Under 18
6,782
18 & over
26,155
20-24
1,578
25-34
3,359
35-49
6,463
50-64
8,445
65 & over
5,627
Population by Ethnicity
Hispanic or Latino
18,381
Non Hispanic or Latino
14,556
Population by Race
White
22,639
African-American
143
Asian
219
Native American
2,031
Hawaiian or Pacific Islander
10
Other
6,296
Two or more
1,599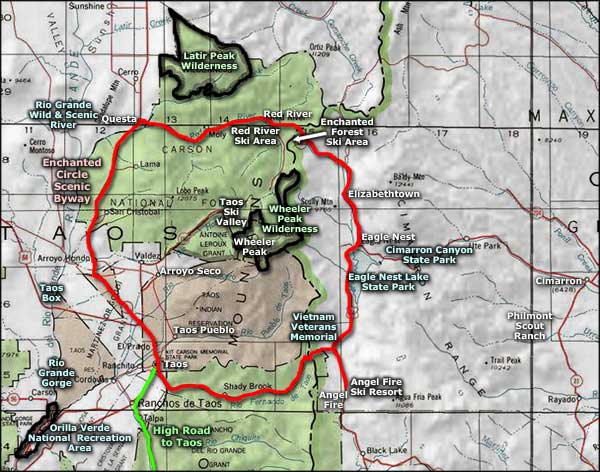 Related Pages
Map courtesy of National Geographic Topo!