Socorro, New Mexico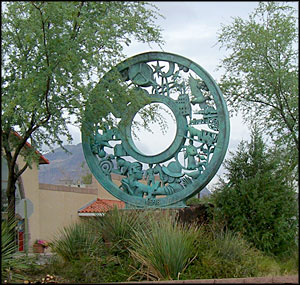 Socorro was first settled in 1598 in a location above the Rio Grande bosques but still on El Camino Real. The downtown of the old city reflects that Hispanic heritage: The center of town is a large plaza, with any "buildings of significance" built right around that old plaza. I drove in on a Saturday morning in late July and the local Farmer's Market was in full swing. There was an interesting assortment of stuff for sale...
Anyway, parts of the old town are in good shape and parts aren't. Most of the original construction around the plaza is still in use, although the Post Office is relatively new and kinda sticks out among all the Pueblo and Territorial architecture.
It looks like any new business development is taking place along the strip mall that connects exits 147 and 150 of the I-25 (the Socorro north and south exits).
New Mexico Technical Institute is located about 1 mile west of downtown Socorro, much closer to that large, high chunk of rock that defines Socorro's western horizon.
From the late 1880's to the 1920's, there was a railroad line running west from Socorro to a railhead at Magdalena, 37 miles west. The railhead marked the eastern terminus of the Magdalena Livestock Driveway, a trail that ran from Springerville, Arizona to Magdalena and carried hundreds of thousands of cattle and sheep to the eastern markets in its time.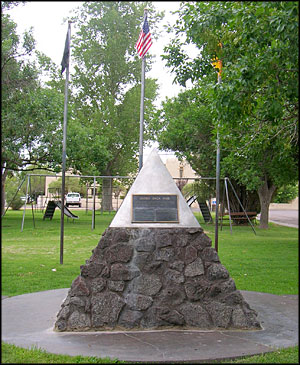 Back in 1598, a group of Spanish settlers led by Don Juan de Oñate emerged from the Jornada del Muerto (the barren desert just south of Socorro) and were welcomed by the Piro Indians of Teypana. The Spanish renamed Teypana as Socorro and later renamed the nearby Piro pueblo of Pilabo as Socorro, also.
The first Catholic mission, Nuestra Senora de Socorro, was established here about 1626. During the Pueblo Revolt of 1680, many Spanish refugees holed up in the Pueblo of Socorro before continuing further south to safety in Mexico. When the Spaniards left, many Piro Indians followed them. Without Spanish protection, the Apaches and other tribes attacked the Pueblo of Socorro and destroyed it, killing any Piro Indians that had stayed behind.
The area was left untouched by the Spaniards on their return in 1692, until Governor Fernando Chacon gave the order to resettle the area in 1800. Even then, no one settled in the Socorro area until about 1815. A group of Belen residents petitioned the crown for land in the Socorro area in 1817 but that effort was interrupted by the Mexican Revolution in 1820. By 1833, the Socorro census listed more than 400 residents in the village with about 1,774 in the area. It was around that time that the mission of San Miguel de Socorro was built on top of the ruins of the old Nuestra Senora de Socorro.
The Socorro Historical District Scenic Byway is a three-mile route that winds its way through the historical areas of old Socorro. Most of the photos on this page were taken along that route.
Fast Facts about
Socorro, New Mexico
Socorro

, Socorro County,

NM

87801
Latitude:
34.0618°N
Longitude:
106.8994°W
Founded: 1598
Elevation:
4,603'
Education:
High School or Higher: 75.4%
Bachelor's Degree or Higher: 25.3%
Graduate or Professional Degree: 11.7%
Cost of Living Index for Socorro: 84.2
2014 Estimates:
Median Household Income: $28,940
Median Home Value: $107,980
Median Resident Age: 31.1 Years
Major Industries:
Educational Services, Lodging & Food Services, Health Care, Construction, Government, Professional Services, Social Services, Finance & Insurance Services, Waste Management Services, Transportation Services
Unemployed (August 2014): 4.7%
Population Demographics: 2010
Total Population
9,051
Males
4,732
Females
4,319
Population by Age
Under 18
1,962
18 & over
7,089
20-24
1,048
25-34
1,189
35-49
1,545
50-64
1,570
65 & over
1,248
Population by Ethnicity
Hispanic or Latino
4,885
Non Hispanic or Latino
4,166
Population by Race
White
7,307
African-American
139
Asian
187
Native American
351
Hawaiian or Pacific Islander
6
Other
749
Two or more
312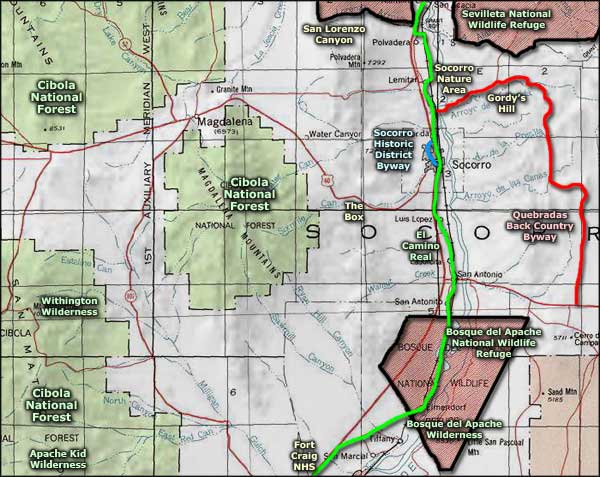 Related Pages
Map courtesy of National Geographic Topo!