Santa Fe County, New Mexico
Santa Fe County rises northward from the Great Plains into the Sangre de Cristo Mountains in north central New Mexico. Lots and lots of history there, starting long before the Europeans arrived. Big mountains, big forest, big wilderness, and some pretty good skiing in season. I don't know if Santa Fe is the heart of the southwest but Southwestern Style is certainly determined there.
Santa Fe County was formed in 1852 and contains 1,909 square miles of land and 2 square miles of water. The county seat and largest city is Santa Fe.
Santa Fe County is home to Hyde Memorial and Cerrillos Hills State Parks, Santa Fe National Forest Scenic Byway, Ski Santa Fe and part of Pecos National Historical Park. The county is also crossed north/south by El Camino Real Historic Byway, east/west by Historic Route 66 and Santa Fe itself serves as the northern terminus of the Turquoise Trail Scenic Byway.
Fast Facts about Santa Fe County, New Mexico
Types of Jobs:
Private Sector, wages or salary: 63%
Government Sector: 23%
Unincorporated, Self-Employed: 13%
Homemaker, Unpaid: 1%
Cost of Living Index for Santa Fe County: 95.7
Median Resident Age: 37.9 Years
2014 Estimates:
Median Household Income: $52,690
Median Home Value: $295,000
Major Industries:
Government, Educational Services, Health Care, Professional Services, Construction, Lodging & Food Services, Entertainment & Recreation, Finance & Insurance Services, Real Estate Services
Population Demographics: 2010
Total Population
144,170
Males
70,257
Females
73,913
Population by Age
Under 18
30,236
18 & over
113,934
20-24
7,526
25-34
16,628
35-49
28,923
50-64
35,879
65 & over
21,804
Population by Ethnicity
Hispanic or Latino
73,015
Non Hispanic or Latino
71,155
Population by Race
White
109,800
African-American
1,239
Asian
1,672
Native American
4,486
Hawaiian or Pacific Islander
108
Other
21,730
Two or more
5,135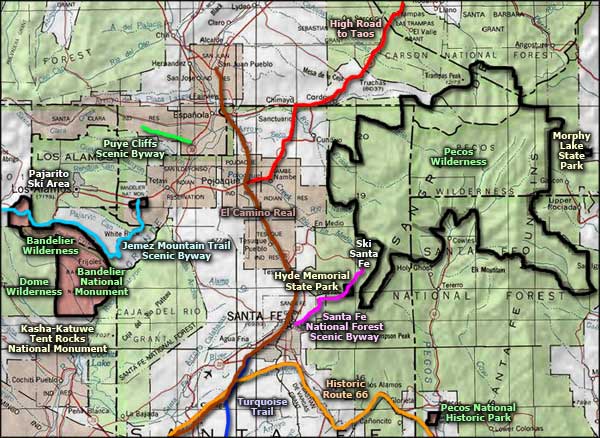 Related Pages
Map courtesy of National Geographic Topo!