San Antonio, New Mexico
San Antonio is another old village founded on the route of El Camino Real, the primary Spanish route connecting northern New Mexico with Chihuahua and points further south. San Antonio is right down in the bosque along the banks of the Rio Grande (the Rio Grande crossing is just east of the main part of the townsite). There are a couple of nice Bed & Breakfasts in San Antonio but the primary business center of Socorro County is Socorro itself, up the I-25 about 10 miles.
San Antonio is where US 380 intersects with the I-25, US 380 heading east to Carrizozo, Capitan and Roswell. This is mostly an agricultural area but the Stallion Range Center of the White Sands Missile Range is nearby and a lot of folks stationed there live in San Antonio. It's through the Stallion Gate that public access is allowed twice a year (1st Saturday in April and October - to get in you need a reservation and you ride their bus) to the Trinity Site, site of the first atomic bomb explosion.
The famous hotelier Conrad Hilton was born in San Antonio. Hilton was one of the original legislators when New Mexico became a state, before he founded the Hilton Hotels Corporation. There is a local barn that was previously a mechanic's garage that was previously the schoolhouse that has "C Hilton 1903" carved into one of the walls.
Just south of San Antonio is Bosque del Apache National Wildlife Refuge.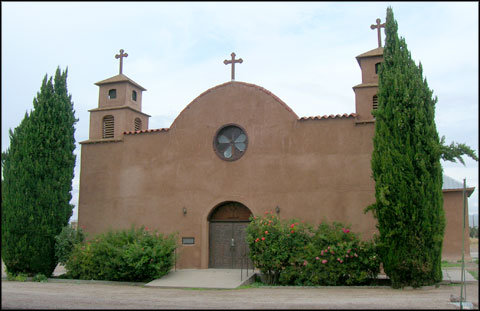 Fast Facts about
San Antonio, New Mexico
San Antonio

, Socorro County,

NM
Unincorporated
Latitude:
33.9150°N
Longitude:
106.8600°W
Elevation:
4,568'
Population Demographics: 2010
Total Population
165
Males
77
Females
88
Population by Age
Under 18
31
18 & over
134
20-24
3
25-34
14
35-49
29
50-64
40
65 & over
46
Population by Ethnicity
Hispanic or Latino
91
Non Hispanic or Latino
74
Population by Race
White
158
African-American
0
Asian
1
Native American
1
Hawaiian or Pacific Islander
0
Other
5
Two or more
0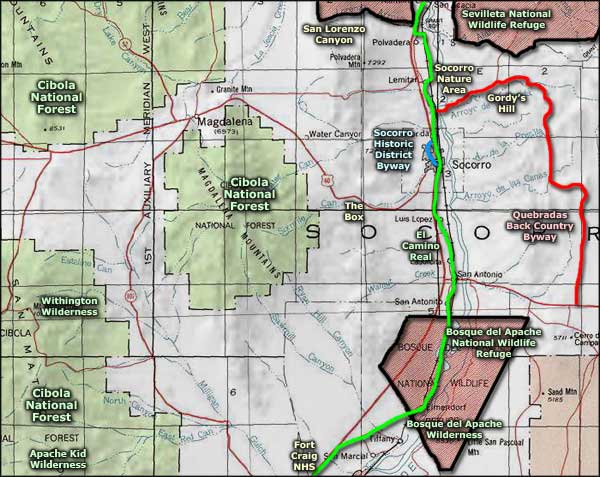 Related Pages
Map courtesy of National Geographic Topo!