Mora County, New Mexico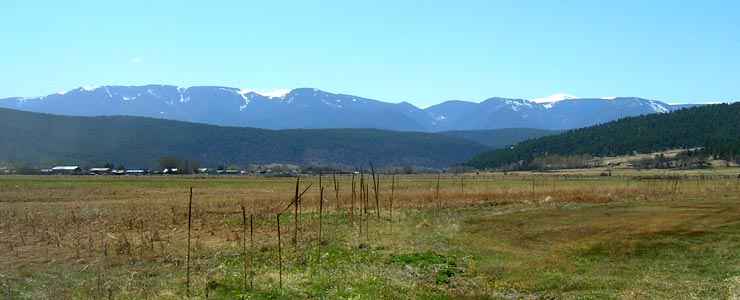 Looking west to the Sangre de Cristo Mountains from Mora
Mora County rises westward from the Great Plains into the Sangre de Cristo Mountains in north central New Mexico. Wagon Mound was one of the major natural landmarks along the Santa Fe Trail. Formed in 1860, Mora County contains 1,931 square miles of land and 2 square miles of water. The county seat is Mora.
A large part of Mora County is the old Mora Land Grant, first settled around 1835. It was a very prosperous area in those days, then came the Mexican-American War in 1846-8. The settlement at Mora participated in the Taos Rebellion early in 1847 and in retaliation, the American invaders sacked and burned the town, killing almost everyone they came across (old men, women and children mostly as the majority of the able-bodied men in the community were off in the forest working and hunting).
Mora County is home to Fort Union National Monument, Mora National Fish Hatchery and the Coyote Creek and Morphy Lake State Parks.
Fast Facts about Mora County, New Mexico
Types of Jobs:
Private Sector, wages or salary: 50%
Government Sector: 36%
Unincorporated, Self-Employed: 10%
Homemaker, Unpaid: 4%
Cost of Living Index for Mora County: 84.4
Median Resident Age: 39.6 Years
2014 Estimates:
Median Household Income: $30,900
Median Home Value: $119,600
Major Industries:
Educational Services, Agriculture & Forestry, Lodging & Food Services, Construction, Government, Social Services, Retail Services, Entertainment & Recreation, Postal Service
Population Demographics: 2010
Total Population
4,881
Males
2,498
Females
2,383
Population by Age
Under 18
1,042
18 & over
3,839
20-24
216
25-34
454
35-49
923
50-64
1,226
65 & over
915
Population by Ethnicity
Hispanic or Latino
3,953
Non Hispanic or Latino
928
Population by Race
White
3,462
African-American
32
Asian
13
Native American
64
Hawaiian or Pacific Islander
1
Other
1,149
Two or more
160