Luna County, New Mexico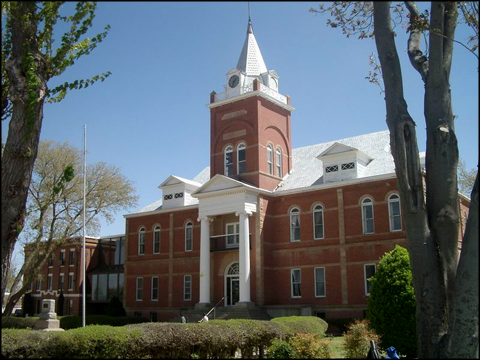 Luna County Courthouse
Luna County is in southern New Mexico with Mexico to the south.
Formed in 1901, Luna County contains 2,965 square miles of land and no significant surface water: this is the Chihuahuan Desert.
The county seat and largest town is Deming. Southeast of Deming is where you'll find Rockhound State Park and in Columbus is where you'll find Pancho Villa State Park.
Fast Facts about Luna County, New Mexico
Types of Jobs:
Private Sector, wages or salary: 66%
Government Sector: 25%
Unincorporated, Self-Employed: 8%
Homemaker, Unpaid: 1%
Population Density: 9 People per Square Mile
Cost of Living Index for Luna County: 82.6
Median Resident Age: 36.7 Years
2014 Estimates:
Median Household Income: $26,200
Median Home Value: $90,980
Major Industries:
Educational Services, Government, Construction, Health Care, Lodging & Food Services, Agriculture & Forestry, Social Services, Repair & Maintenance, Food Processing, Finance & Insurance Services
Population Demographics: 2010
Total Population
25,095
Males
12,474
Females
12,621
Population by Age
Under 18
6,645
18 & over
18,450
20-24
1,446
25-34
2,604
35-49
4,114
50-64
4,646
65 & over
4,907
Population by Ethnicity
Hispanic or Latino
15,423
Non Hispanic or Latino
9,672
Population by Race
White
19,511
African-American
288
Asian
119
Native American
317
Hawaiian or Pacific Islander
19
Other
4,176
Two or more
665
Photo courtesy of Bill McIntosh