Los Cerrillos, New Mexico
Before the Spanish arrived, the Native Americans had mined lots of turquoise in the mineral rich hills around Los Cerrillos. The Spanish made this district one of the oldest and most marked of their mineral developments in Nuevo Mexico. Turquoise mined here even made its way into the Spanish Crown Jewels. That early Spanish settlement here harbored some of the Spanish refugees from the Pueblo Revolt of 1680 but the present community wasn't begun until the 1879 lead strike. The Spanish actually considered making Los Cerrillos the capitol of Nuevo Mexico because of all the mining activity there.
Many millions in gold were taken from placer mines in the area during the 1800's. The Mina del Tiro, oldest ore mine in the USA, produced ore from rich deposits of lead, zinc and silver.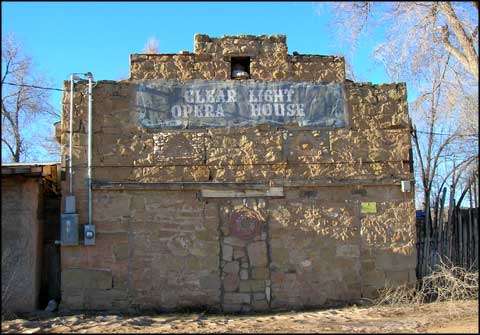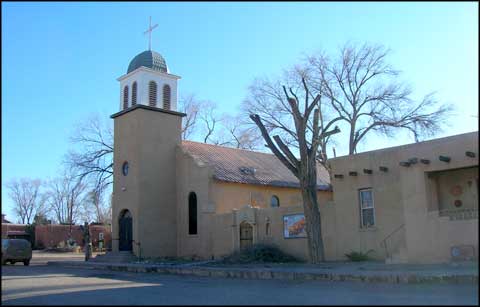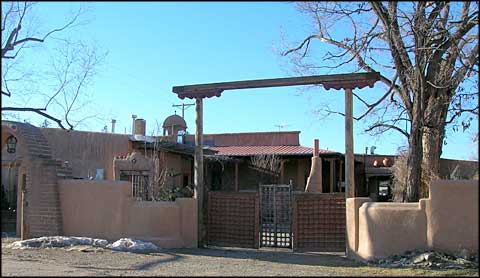 In September of 1881, Doc Richards moved from Carbonateville (3 miles upstream along the arroyo) into a 2-story wooden home in Los Cerrillos. The family lived upstairs and Doc ran his drug store downstairs. The fire of 1890 destroyed all the buildings on the block so Doc rebuilt on the same spot, this time with adobe. The building was used as a saloon during Prohibition times and the proprietress once protected her business from the revenuers by shooting blindly through the door. In 1968, the Turquoise Trail Volunteer Fire Department used the building as their first fire house.
During the 1800's, there were 4 hotels and 21 saloons in operation in Los Cerrillos. Famous visitors in the old days were US Grant, Theodore Roosevelt, Lew Wallace, and Thomas A. Edison. In 1958, Disney filmed The Nine Lives of El Fegio Baca (which played a bit loosely with the real story) in Los Cerrillos, and in 1998, the movie Vampires was filmed in the shop next to Mary's Bar. The movie "Young Guns" was also filmed in Los Cerrillos.
The population of Los Cerrillos is up more than 40% since 2000.
Fast Facts about
Los Cerrillos, New Mexico
Los Cerrillos

, Santa Fe County,

NM

87010
Latitude:
35.4372°N
Longitude:
106.1267°W
Elevation:
5,588'
Education:
High School or Higher: 45.2%
Bachelor's Degree or Higher: 27.4%
Unemployed (August 2014): 5.0%
2014 Estimates:
Median Household Income: $53,980
Median Home Value: $171,950
Median Resident Age: 43.6 Years
Major Industries:
Government, Lodging & Food Services, Retail Services
Cost of Living Index for Los Cerrillos: 93.4
Population Demographics: 2010
Total Population
321
Males
161
Females
160
Population by Age
Under 18
51
18 & over
270
20-24
14
25-34
25
35-49
59
50-64
103
65 & over
66
Population by Ethnicity
Hispanic or Latino
123
Non Hispanic or Latino
198
Population by Race
White
287
African-American
4
Asian
4
Native American
6
Hawaiian or Pacific Islander
0
Other
14
Two or more
6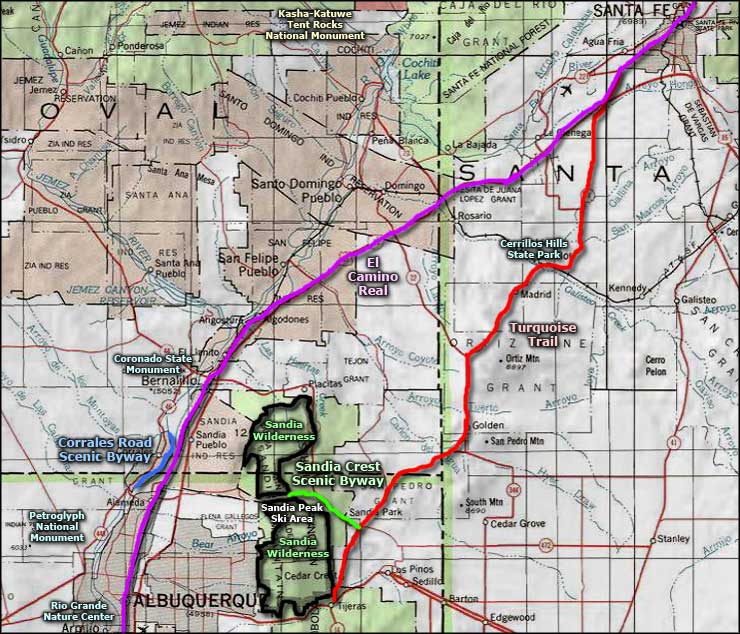 Related Pages
Map courtesy of National Geographic Topo!