Lea County, New Mexico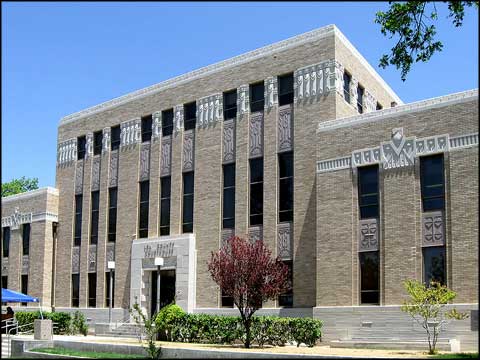 Lea County Courthouse in Lovington
Lea County is located in southeastern New Mexico with Texas to the east and south. This is big ranching and oil & gas country. It's also a mix of Chihuahuan Desert and high plains countryside...
Formed in 1917, Lea County contains 4,393 square miles of land and 1 square mile of water.
The county seat is Lovington, the biggest city Hobbs.
Fast Facts about Lea County, New Mexico
Types of Jobs:
Private Sector, wages or salary: 75%
Government Sector: 16%
Unincorporated, Self-Employed: 8%
Homemaker, Unpaid: 1%
Median Resident Age: 33.1 Years
Cost of Living Index for Lea County: 80.5
2014 Estimates:
Median Household Income: $37,560
Median Home Value: $86,700
Major Industries:
Mining, Educational Services, Health Care, Lodging & Food Services, Construction, Agriculture, Government, Social Services, Repair & Maintenance, Retail Services, Utilities, Personal & Laundry Services
Population Demographics: 2010
Total Population
64,727
Males
33,045
Females
31,682
Population by Age
Under 18
19,028
18 & over
45,699
20-24
4,614
25-34
9,466
35-49
12,008
50-64
10,671
65 & over
6,991
Population by Ethnicity
Hispanic or Latino
33,063
Non Hispanic or Latino
31,664
Population by Race
White
48,539
African-American
2,641
Asian
326
Native American
770
Hawaiian or Pacific Islander
36
Other
10,764
Two or more
1,651
Photo of the Lea County Courthouse courtesy of AllenS