Las Cruces, New Mexico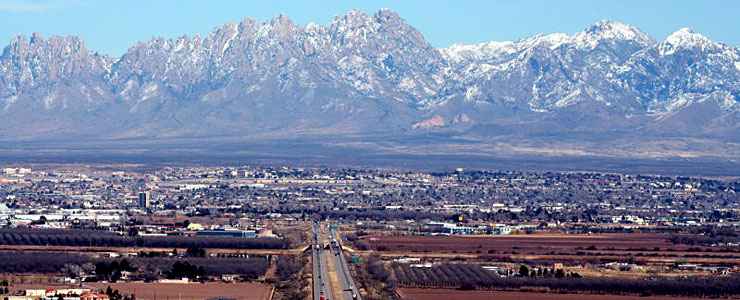 Las Cruces from the south on Interstate 10
The second largest city in New Mexico, Las Cruces is located in the Mesilla Valley in the southern portion of the state. The Rio Grande flows along the western edge of the city and the Organ Mountains are to the east. Las Cruces is home to New Mexico State University, a school with more than 30,000 graduate and under-graduate students spread between the main campus and four branches.
Dona Ana County was first colonized by folks traveling with Juan de Oñate in 1598. Las Cruces itself was founded by the US Army in 1849, right against the Mexican-American border defined by the Guadalupe-Hidalgo Treaty that ended the Mexican-American War. Across the Rio Grande was the village of Mesilla, founded by Hispanic settlers who chose to stay in Mexico. However, the Gadsden Purchase of 1853 redefined the border with Mexico and the Mesilla area became American territory.
When representatives of the Atchison, Topeka & Santa Fe Railroad came to town, Mesilla was the larger settlement of the two but the residents of Mesilla wanted an exorbitant fee to sell the railroad any rights-of-way. A large land owner in Las Cruces donated the rights-of-way and land for a depot to the railroad. The first train arrived in 1881 and most business growth shifted to Las Cruces after that.
Las Cruces College was founded in 1888 and was established as a land grant college with an experimental research station by the state legislature in 1889. The name was changed to New Mexico College of Agriculture and Mechanical Arts in 1890 and then in 1958 to New Mexico State University.
During World War II a POW camp for German and Italian soldiers was established near Las Cruces and many of those POW's worked in the Emergency Farm Labor Program on farms irrigated by water flowing from Elephant Butte Reservoir to the north. Elephant Butte Dam had been approved by the US Secretary of the Interior in 1895 but that proposal was held up in the courts for many years by proponents of a rival project to be built closer to El Paso. Eventually, the Elephant Butte Dam project won out and construction was completed in 1916.
Another nearby development resulting from World War II was the establishment of the White Sands Missile Range straddling the San Andres Mountains. This made the defense industry a major player in the economies of both Alamogordo and Las Cruces.
During the 1960's, like a lot of other cities in America, Las Cruces went through a phase of "urban renewal" which essentially destroyed the downtown business center of the city. Six blocks of Main Street in the heart of the old town were closed to traffic and turned into a pedestrian mall. As a result of that, most retail and business traffic is scattered all across the city with the major portion spread east and west along Lohman Avenue and north and south along Telshor Boulevard. Today, the city government is trying to reestablish that central downtown by reopening that pedestrian mall to vehicular traffic but there is a lot of resistance from the residents because of the projected costs of the project. In spite of the controversy, a number of businesses, theaters, churches and art galleries are still located in that downtown area because of the ambiance of the historical section.
The population of Las Cruces is up more than 32% since 2000.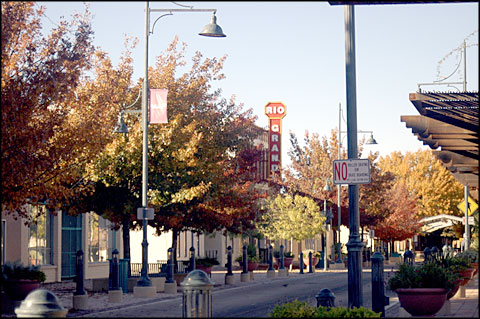 A "restored" section of Main Street in downtown Las Cruces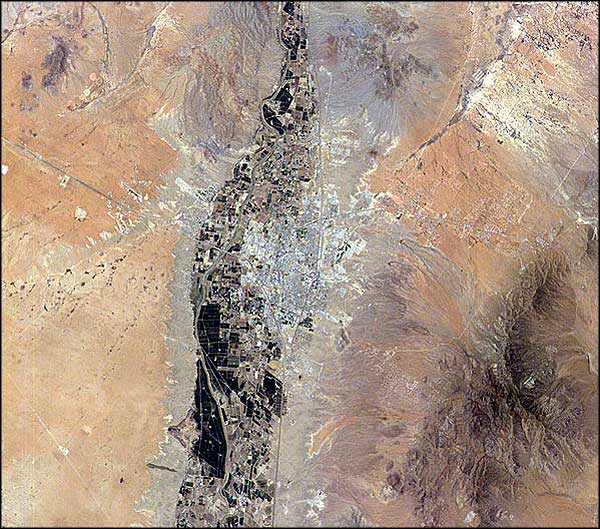 Las Cruces from space, Organ Mountains to the lower right
Fast Facts about
Las Cruces, New Mexico
Las Cruces

, Dona Ana County,

NM
Zip Codes: 88001, 88003-88006, 88011, 88012
Latitude:
32.3197°N
Longitude:
106.7652°W
Incorporated: 1907
Elevation:
4,000 '
Education:
High School or Higher: 80.3%
Bachelor's Degree or Higher: 28.4%
Graduate or Professional Degree: 12.1%
Cost of Living Index for Las Cruces: 86.2
2014 Estimates:
Median Household Income: $37,470
Median Home Value: $155,400
Median Resident Age: 31.2 Years
Major Industries:
Educational Services, Health Care, Government, Lodging & Food Services, Construction, Social Services, Professional Services, Finance & Insurance Services, Retail Services, Waste Management Services
Unemployed (August 2014): 5.8%
Population Demographics: 2010
Total Population
97,618
Males
47,535
Females
50,083
Population by Age
Under 18
23,757
18 & over
73,861
20-24
10,185
25-34
14,745
35-49
16,664
50-64
15,763
65 & over
13,317
Population by Ethnicity
Hispanic or Latino
55,443
Non Hispanic or Latino
42,175
Population by Race
White
73,513
African-American
2,385
Asian
1,541
Native American
1,706
Hawaiian or Pacific Islander
106
Other
14,913
Two or more
3,454
Upper photo of Las Cruces courtesy of Wikipedia userid Neomexicanus
Photo of Main Street in Las Cruces courtesy of Wikipedia userid Jumacdon
Photo of Las Cruces from space courtesy of NASA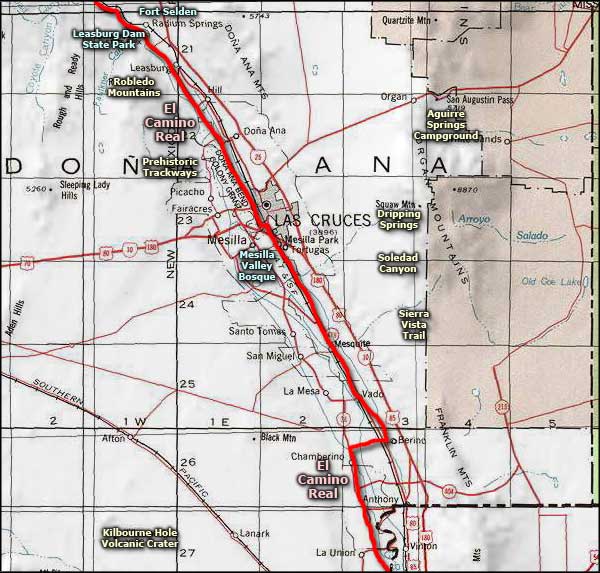 Related Pages
Map courtesy of National Geographic Topo!