Hurley, New Mexico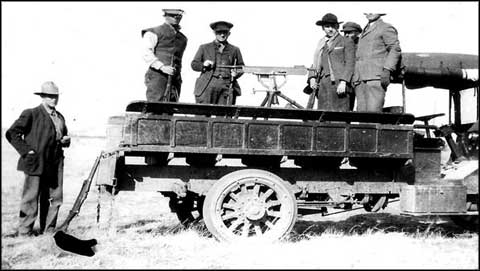 Company "security officers" with the company machine gun, 1917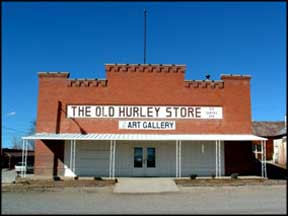 Hurley was established by the Chino Copper Company, operators of the Santa Rita copper mine, as a company town to serve the copper processing plant the company built there. The location was ideal because of the gentle slope of the land, the available water supply and the adjacent flat area for building the town, shops and offices. It also helped that when the railroad was built through several years earlier it had established a siding at Hurley. The deposits at Santa Rita had been known for years but development had been stymied for a long time due to the relatively low quality of the ore. Even Anaconda couldn't do much with the property. Then a mining engineer from MIT evaluated the property at Santa Rita for General Electric and got excited. That was 1908. He was aware of recent advances in the "science" of open pit mining and by 1910, construction of the concentrator, power plant and ancillary facilities needed for processing the ore being dug at Santa Rita was underway in Hurley. Nearby Santa Clara grew to more than 5,000 residents before higher-grade copper ore was discovered directly beneath the town site in the 1950's. At that point, the company told the folks to move and Santa Rita was soon swallowed by the mine. Residents moved to Hurley, Bayard, Santa Clara and beyond...
As quiet and peaceful as Hurley is these days, there was a time in the early 1900's when the company was importing gunslingers and transforming them into lawmen by pinning a badge on their chests... The situation was such that the company even mounted a machine gun on the back of a pickup truck. Of course, those were also the early days of miners unionizing in the face of extremely low pay and horrific working conditions all across the Western states...
The population of Hurley is down more than 10% since 2000.
Fast Facts about
Hurley, New Mexico
Hurley

, Grant County,

NM

88043
Latitude:
32.699594°N
Longitude:
108.128629°W
Founded: 1878
Elevation:
5,722'
Education:
High School or Higher: 73.3%
Bachelor's Degree or Higher: 13.9%
Graduate or Professional Degree: 4.4%
Cost of Living Index for Hurley: 86.5
2014 Estimates:
Median Household Income: $30,500
Median Home Value: $90,800
Median Resident Age: 44.3 Years
Major Industries:
Construction, Educational Services, Health Care, Social Services, Natural Resources, Government, Retail Trade, Transportation & Warehousing
Unemployed (August 2014): 6.5%
Population Demographics: 2010
Total Population
1,297
Males
635
Females
662
Population by Age
Under 18
308
18 & over
989
20-24
53
25-34
129
35-49
206
50-64
280
65 & over
288
Population by Ethnicity
Hispanic or Latino
826
Non Hispanic or Latino
471
Population by Race
White
1,087
African-American
8
Asian
2
Native American
9
Hawaiian or Pacific Islander
0
Other
147
Two or more
44
Photos courtesy of hurleynm.com (which is now defunct)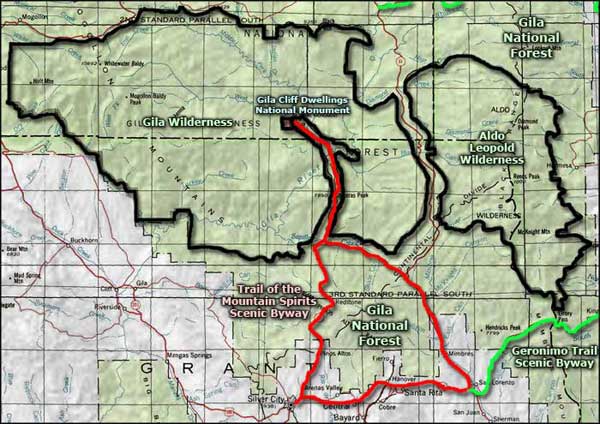 Related Pages
Map courtesy of National Geographic Topo!