Hidalgo County, New Mexico
Hidalgo County is the boot heel of New Mexico, in the southwest corner of the state with Arizona to the west and Mexico to the south. Some stories say Hidalgo County was named in honor of Miguel Hidalgo, while other sources say the county was named in honor of the Treaty of Guadalupe Hidalgo, although that treaty left the area as part of Mexico and it was the Gadsden Purchase 5 years later that incorporated Hidalgo County into the United States.
Formed in 1919, Hidalgo County contains 3,446 square miles of land and about 1/3 of a square mile of water (except after a good monsoon rain - some of the big valleys harbor normally dry lakebeds). The county seat and largest town is Lordsburg. There are a number of old mining settlements scattered among the valleys south of Lordsburg but nearly all qualify as ghost towns these days. Still, the local folks will tell you where their ranches are located using those ghost towns as landmarks.
Hidalgo County is home to the Diamond A Ranch,a 300,000 acre property that encompasses nearly the entire Animas Mountain Range in southern Hidalgo County. The range runs north/south and contains about 30 miles of the Continental Divide. The high point is along the top ridge of Animas Peak Massif (8,565' but the point known as Animas Peak itself is only 8,531'). The Nature Conservancy bought the property in 1990 and instead of transferring it to the federal government, sold it to the Animas Foundation, a private organization founded by Drummond Hadley (a local rancher). The Foundation operates on the principle of "sustainable agriculture in harmony with the environment" and is an integral partner with the Malpai Borderlands Group (a regional collaborative group composed of local landowners, universities, environmental organizations and local, state and federal agencies). The Animas Foundation is particularly important to the collaborative group in that they own more than a third of the planning and operations area. Because of that private ownership, access to the property (and the mountains) is tightly controlled and there is little or no public recreational use opportunity available.
Hidalgo County is at the northwestern edge of the Chihuahuan Desert. The highest mountain elevations are true "sky islands" with dense coniferous forests in place. The middle elevations are characterized by grasslands reaching up into piñon-juniper shrubs and woodlands. The lower elevations are typical thorny cactus, creosotebush and other desertic plants. There are also up to 130 species of birds, 60 species of mammals and 40 species of reptiles found in the area.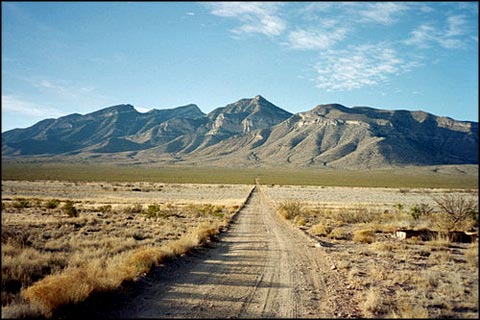 Big Hatchet Peak
Fast Facts about Hidalgo County, New Mexico
Types of Jobs:
Private Sector, wages or salary: 69%
Government Sector: 22%
Unincorporated, Self-Employed: 8%
Homemaker, Unpaid: 1%
Cost of Living Index for Hidalgo County: 80.0
Median Resident Age: 34.8 Years
2014 Estimates:
Median Household Income: $31,290
Median Home Value: $96,750
Major Industries:
Lodging & Food Services, Agriculture, Educational Services, Health Care, Construction, Mining, Government, Retail Services, Miscellaneous Import Wholesalers, Transportation Services, Finance & Insurance Services
Population Demographics: 2010
Total Population
4,894
Males
2,455
Females
2,439
Population by Age
Under 18
1,262
18 & over
3,632
20-24
280
25-34
471
35-49
944
50-64
989
65 & over
815
Population by Ethnicity
Hispanic or Latino
2,769
Non Hispanic or Latino
2,125
Population by Race
White
4,177
African-American
29
Asian
23
Native American
41
Hawaiian or Pacific Islander
2
Other
536
Two or more
86