Folsom, New Mexico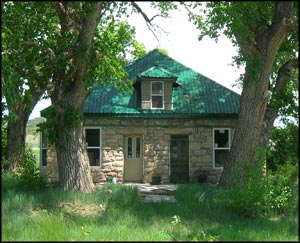 Folsom was first settled in the late 1800's by cattle ranchers. The town was named for Miss Frances Folsom, the 21-year-old beauty who married President Grover Cleveland (age: 49) during his tenure in the White House.
Folsom built up into a thriving little town until a major flood in 1908 killed 17 people and wiped out most of the business district. Most of what was destroyed wasn't rebuilt, although the cattle ranches still seem to be in good shape around here.
The countryside is gorgeous and has lots of character (meaning it's not just flat and featureless). Capulin Volcano National Monument is just south of town and Folsom Falls is just to the north. The soil around here is pretty rich, probably owing to the amount of volcanic material that has flowed here within just the last 10,000 years.
The Folsom Museum has lots of data, photos and artifacts in regards to the history of the area, including quite a few dinosaur bones and other fossils found near here.
Folsom might never have been known by the rest of the world if George McJunkin hadn't found that first Folsom Point near here after that flood in 1908. The ancient arrowhead put Folsom on the map, and changed white Europeans' thinking in regards to how long the New World had been inhabited by Native Americans. The debate is still going on as to how long humans have been in the New World but that single Folsom Point moved the date back thousands of years... Since that time, several other Clovis Culture sites have been found, all archaeologically linked by the prehistoric technology represented by Folsom points.
These days, Folsom looks very like a ghost town but there are still a few folks living there. On this particular photo excursion, I drove into town and took shots of those elements that struck my eye (there are some newer homes in town but I'm usually drawn to the historic stuff, the stuff with more character).
The population of Folsom is down more than 25% since 2000.
Fast Facts about
Folsom, New Mexico
Latitude:
36.8482°N
Longitude:
103.9182°W
Unincorporated
Elevation:
6,391'
Education:
High School or Higher: 94.4%
Bachelor's Degree or Higher: 9.3%
2014 Estimates:
Median Household Income: $14,200
Median Home Value: $71,300
Median Resident Age: 39.8 Years
Cost of Living Index for Folsom: 84.3
Major Industries:
Ranching, Retail Trade, Tourism, Retirement Services
Unemployed (August 2014): 3.9%
Population Demographics: 2010
Total Population
56
Males
33
Females
23
Population by Age
Under 18
18
18 & over
38
20-24
0
25-34
5
35-49
14
50-64
7
65 & over
12
Population by Ethnicity
Hispanic or Latino
8
Non Hispanic or Latino
48
Population by Race
White
50
African-American
0
Asian
0
Native American
0
Hawaiian or Pacific Islander
0
Other
5
Two or more
1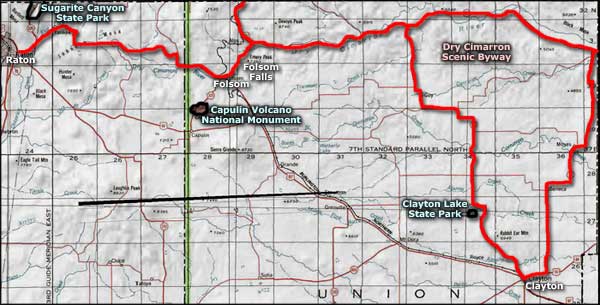 Related Pages
Map courtesy of National Geographic Topo!