Estancia, New Mexico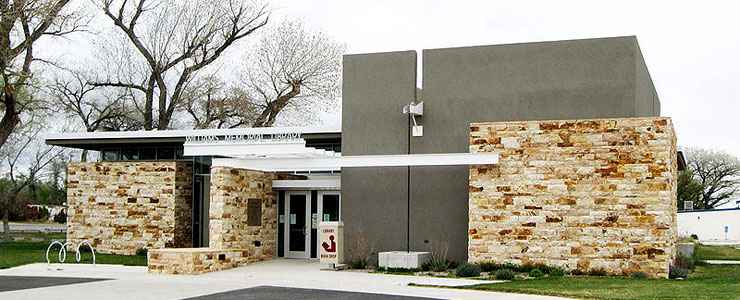 Williams Memorial Library in Estancia
Estancia is located on the eastern side of the Manzano Mountains between the mountains and the Salt Lakes. It was shown on a map made in 1779 by Don Bernardo de Miera y Pacheco as being "destroyed by enemies." In 1819, Don Facundo Melgares gave 1.28 million acres in the Estancia Valley to Don Bartolome Baca as a huge land grant. Then in 1845, Governor Manuel Armijo gave 350,000 acres surrounding Estancia itself to Don Antonio Sandoval as another land grant. That put the Sandoval Grant inside the Baca Grant. In 1874, Baca's heirs sold that grant to Don Manuel Antonio Otero and he and his family ran some 30,000 sheep on the huge property. In 1878, a Boston millionaire named Joel P. Whitney came into possession of the Sandoval Grant. This set the stage for a shooting war that erupted in July, 1883. Whitney's brother, with some friends, and Otero's son, also with some friends, decided to settle the 38-year-old dispute once and for all. When the smoke cleared, the young Otero was dead and the Whitney was badly wounded. The Gringo & The Greaser (a newspaper based in Manzano) published an extra edition about the affair but, of course, nothing was settled until it got into the federal land claims court. The court denied the claims of both parties but did give them about 1 square mile each and opened the rest of the property to homesteaders.
The Santa Fe Central Railroad built a line into the area in 1903 and, that being a very wet year, the land rush was on. Shortly, Estancia was the declared "Pinto Bean Capital of the World." However, the weather soon returned to its usual drought conditions and so much of the countryside had been plowed to grow beans that the area was soon as denuded of top soil as the Dust Bowl regions (although the problem lasted longer here). The population dropped off over the years until there came a point where the federal Soil Bank started paying bean farmers not to plant. Eventually most of the dry-land farms were absorbed into large ranches or became irrigated farms using water from the valley's aquifer.
The population of Estancia is up about 4.5% since 2000.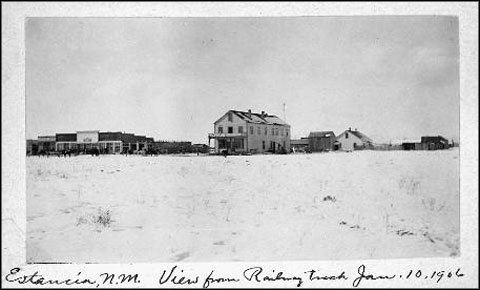 Estancia in 1906
Fast Facts about
Estancia, New Mexico
Estancia

, Torrance County,

NM

87016
Latitude: 3
4.7604°N
Longitude:
106.0607°W
Incorporated: 1909
Elevation: 6,109'
Education:
High School or Higher: 65.8%
Bachelor's Degree or Higher: 7.3%
Graduate or Professional Degree: 2.2%
Cost of Living Index for Estancia: 86.6
2014 Estimates:
Median Household Income: $25,670
Median Home Value: $78,900
Median Resident Age: 33.9 Years
Major Industries:
Government, Construction, Health Care, Agriculture, Educational Services, Professional Services, Social Services, Transportation Services, Lodging & Food Services, Light Manufacturing
Unemployed (August 2014): 7.2%
Population Demographics: 2010
Total Population
1,655
Males
1,070
Females
585
Population by Age
Under 18
309
18 & over
1,346
20-24
161
25-34
338
35-49
400
50-64
232
65 & over
181
Population by Ethnicity
Hispanic or Latino
783
Non Hispanic or Latino
872
Population by Race
White
1,158
African-American
57
Asian
5
Native American
91
Hawaiian or Pacific Islander
3
Other
282
Two or more
59
Upper photo courtesy of Wikipedia userid AllenS
Photo of Estancia in 1906 courtesy of the Town of Estancia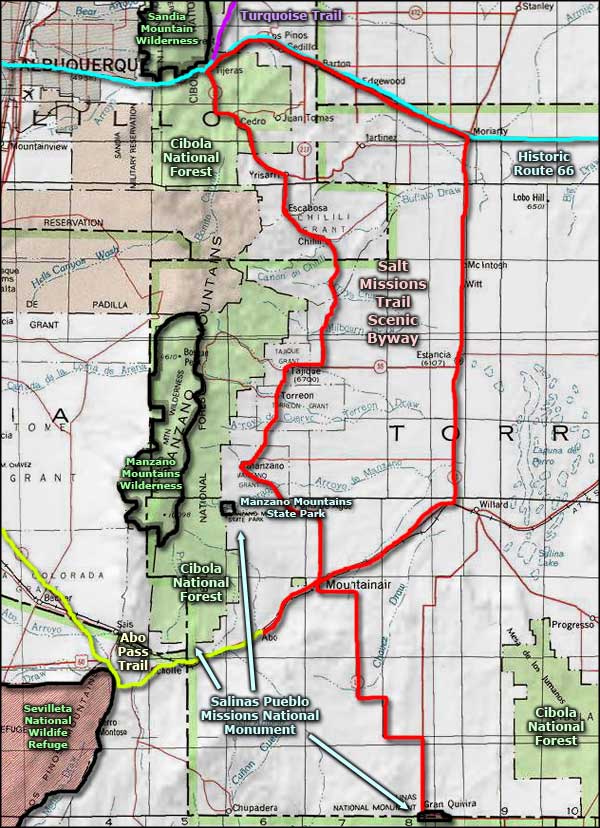 Related Pages
Map courtesy of National Geographic Topo!