Enchanted Forest Cross Country Ski Area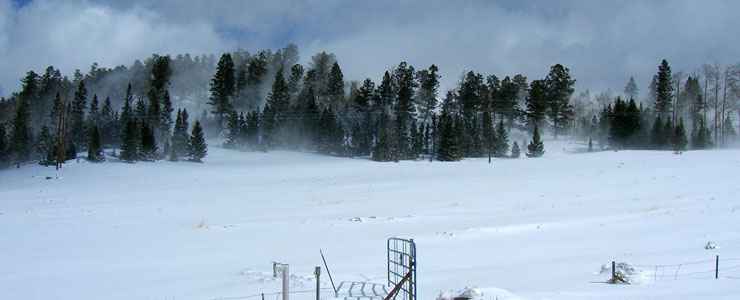 Near the Enchanted Forest entrance in mid-March
The Enchanted Forest Cross Country Ski Area offers 30+km of high alpine, cross country ski trails, in addition to more than 15km of exclusive snowshoeing trails with another 5km of trails for folks who like to ski or snowshoe with their dogs along (of course, your dogs must be under at least voice command at all times, leashes required in the parking area, and clean up after them along the way). But if you want to get way outdoors in the winter in a place with incredible views, a warming hut, outhouses along the way, lots of wildlife, and an active ski patrol without having to shuss down a steep, snow-covered slope with a bunch of other folks flying around, Enchanted Forest is the place to be. Enchanted Forest Nordic Ski Area even offers Headlamp and Moonlight Snowshoe Tours: short, night-time, guided headlamp tours through the meadows to enjoy the moon, the views and the wildlife that doesn't come out during the day.
Quick Facts About Enchanted Forest Cross Country Ski Area
Season: mid-November through March (Weather permitting)
Hours of operation: 9:00 AM to 4:30 PM, MST
Ski and snowshoe rentals available, as are group beginner lessons, intermediate clinics, and a PSIA Instructor Clinic (usually held in early December)
Enchanted Forest Cross Country Ski Area
Ski Trails Maps Copyright © Enchanted Forest Cross Country Ski Area. All rights reserved
Upper photo courtesy of TheArmchairExplorer,
CCA-by-SA 3.0 License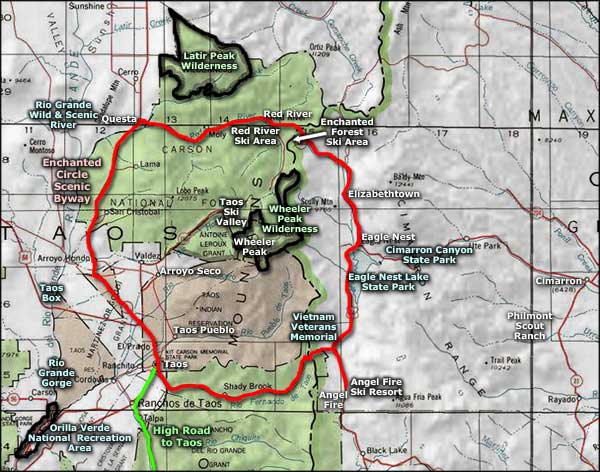 Related Pages
Map courtesy of National Geographic Topo!