Eddy County, New Mexico
Eddy County is in southeastern New Mexico with Texas to the south. Formed in 1889, Eddy County contains 4,182 square miles of land and 16 square miles of water. The county seat and largest city is Carlsbad.
This is the home of the famous Carlsbad Caverns National Park and lesser known attractions like La Cueva Non-Motorized Trails, Black River Recreation Area, Pecos River Corridor, Carlsbad Caverns Wilderness, Guadalupe Back Country Byway, Hackberry Lake OHV Recreation Site, Brantley Lake State Park, Living Desert Zoo & Gardens and sections of Lincoln National Forest.
Fast Facts about Eddy County, New Mexico
Types of Jobs:
Private Sector, wages or salary: 74%
Government Sector: 17%
Unincorporated, Self-Employed: 8%
Homemaker, Unpaid: 1%
Population Density: 13 People per Square Mile
Cost of Living Index for Eddy County: 81.6
Median Resident Age: 36.4 Years
2014 Estimates:
Median Household Income: $40,340
Median Home Value: $92,000
Major Industries:
Mining, Educational Services, Health Care, Government, Construction, Agriculture, Lodging & Food Services, Waste Management Services, Lodging & Food Services, Retail Services, Finance & Insurance Services, Social Services
Population Demographics: 2010
Total Population
53,829
Males
26,879
Females
26,950
Population by Age
Under 18
14,035
18 & over
39,794
20-24
3,183
25-34
6,802
35-49
9,994
50-64
10,759
65 & over
7,541
Population by Ethnicity
Hispanic or Latino
23,731
Non Hispanic or Latino
30,098
Population by Race
White
41,667
African-American
743
Asian
356
Native American
810
Hawaiian or Pacific Islander
22
Other
8,629
Two or more
1,602
Photo of Carlsbad Cavern courtesy of the National Park Service
Photo of cactus and stones courtesy of New Mexico State Parks
Photo of Eddy County Courthouse courtesy of AllenS
Other photos courtesy of the Bureau of Land Management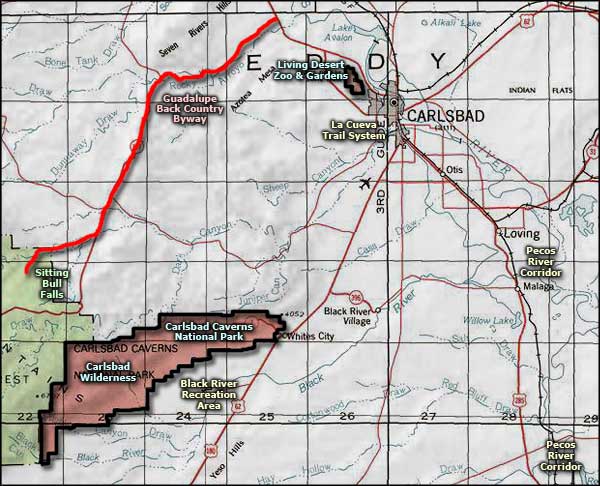 Related Pages
Map courtesy of National Geographic Topo!