Eagle Nest, New Mexico
Located at a crossroads in the Enchanted Circle Scenic Byway, Eagle Nest is a major northern New Mexico vacation destination. In the heart of the Moreno Valley, surrounded by Carson National Forest and the Sangre de Cristo Mountains, bordering Eagle Nest Lake, what more could you ask for? Angel Fire Ski Resort and Golf Course are 12 miles south, Red River Ski Area is 17 miles north, and Taos Ski Valley is 40 miles west.
At 8,382 feet above sea level, nature ensures cool, dry summers and moderate winters. In the summer, temperatures range from a high of 84 degrees to a low of 34 degrees. In the winter the temperature range is from a high of 44 degrees to a low of -10 degrees. Snowfall can total as much as 150 inches, making for excellent winter sports conditions (some of the photos here attest to that).
Along about 1905, Charles and Frank Springer proposed to construct a dam near the entrance to Cimarron Canyon. After their permit was granted in 1907, they spent the next 11 years building the dam that created Eagle Nest Lake. The lake was originally proposed for irrigation purposes but it quickly turned into a major fishing and vacation destination. In 1919, Talmadge "TD" Neal bought land next to the lake and surveyed and platted the town of Therma.
Over the next several years, most of the residents of Elizabethtown moved down here and established a real settlement. As time went on, word of the cool, dry summer weather passed among the folks of Texas and summers began to see lots of tourists up here to escape the heat and humidity of the low country. By 1935, the post office was being flooded with mail addressed to Eagle Nest Lake (for whatever reason, the name "Therma" just didn't stick) so the citizens renamed the town Eagle Nest. This was also the time when you could find roulette wheels, gaming tables and slot machines in nearly every business establishment in town. The El Monte Hotel (which is now the Laguna Vista) even offered ladies of the evening to their high roller customers.
The 1940's brought a major police crackdown on the illegal gambling. Probably what started the whole thing was the regular shoot-outs going on from the rooftops along Main Street. Some of the business owners got advance notice of the police raids and simply sank all their equipment and slot machines in the lake. Others saw their stuff dragged out on Main Street and literally chopped up with axes. When it was all over, there were still quite a few slots hiding in the back rooms of certain businesses. Eagle Nest finally became an incorporated town in 1976.
Baldy Mountain had numerous gold mines on its west face that supported the boom towns of Virginia City, Elizabethtown and Baldy City. What remains of the Klondike Mine processing mill is still visible from Idlewild, a suburb to the west of Eagle Nest.
The population of Eagle Nest is down more than 5% since 2000.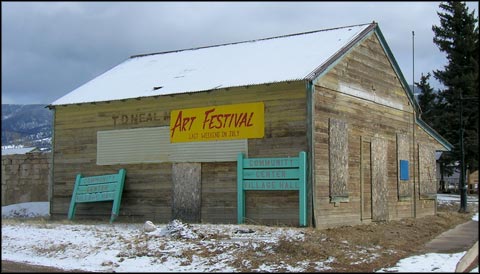 TD Neal's original Mercantile
Fast Facts about
Eagle Nest, New Mexico
Eagle Nest

, Colfax County,

NM

87718
Latitude:
36.5521°N
Longitude:
105.2613°W
Incorporated: 1976
Elevation:
8,238'
Education:
High School or Higher: 85.8%
Bachelor's Degree or Higher: 18.9%
Graduate or Professional Degree: 1.4%
Cost of Living Index for Eagle Nest: 88.2
2014 Estimates:
Median Household Income: $36,490
Median Home Value: $104,450
Median Resident Age: 44.0 Years
Major Industries:
Lodging & Food Services, Construction, Government, Real Estate Services, Retail Services, Professional Services, Health Care, Educational Services, Agriculture, Utilities
Unemployed (August 2014): 6.0%
Population Demographics: 2010
Total Population
290
Males
151
Females
139
Population by Age
Under 18
54
18 & over
236
20-24
15
25-34
23
35-49
40
50-64
97
65 & over
53
Population by Ethnicity
Hispanic or Latino
60
Non Hispanic or Latino
230
Population by Race
White
259
African-American
0
Asian
3
Native American
2
Hawaiian or Pacific Islander
0
Other
22
Two or more
4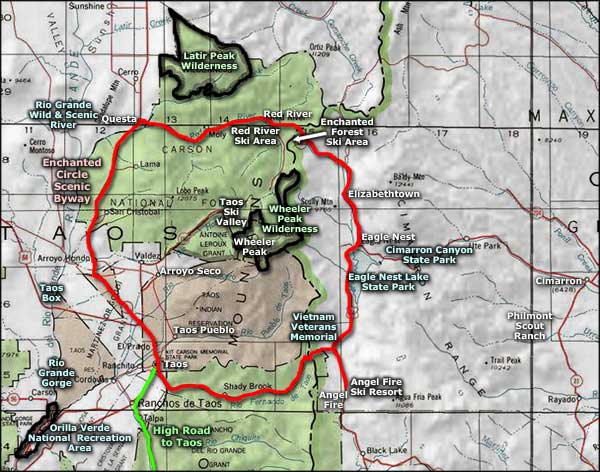 Related Pages
Map courtesy of National Geographic Topo!