Dona Ana County, New Mexico
Dona Ana County is in southern New Mexico with Texas to the south. The county is bisected north-to-south by both the Rio Grande and the I-25. Formed in 1852, Dona Ana County contains 3,807 square miles of land and 7 square miles of water. The county seat and largest city is Las Cruces.
Attractions to be found in Dona Ana County include Sierra Vista Bike Trails, Aguirre Spring Campground, Dripping Springs Natural Area, Soledad Canyon Day Use Area, Robledo Mountains Recreation Area, Kilbourne Hole Volcanic Crater, Prehistoric Trackways National Monument, El Camino Real Scenic & Historic Byway, Fort Selden State Monument, Leasburg Dam State Park and Mesilla Valley Bosque State Park. Many of these places were incorporated into the Organ Mountains-Desert Peaks National Monument when it was established in 2014. Dona Ana County is also home to the San Andres National Wildlife Refuge but access to that property is restricted as it is surrounded by fenced and patrolled federal property (White Sands Missile Range).
Fast Facts about Dona Ana County, New Mexico
Types of Jobs:
Private Sector, wages or salary: 66%
Government Sector: 25%
Unincorporated, Self-Employed: 8%
Homemaker, Unpaid: 1%
Population Density: 54 People per Square Mile
Cost of Living Index for Dona Ana County: 85.6
Median Resident Age: 30.2 Years
2014 Estimates:
Median Household Income: $35,700
Median Home Value: $140,300
Major Industries:
Educational Services, Government, Health Care, Lodging & Food Services, Construction, Agriculture, Professional Services, Social Services, Waste Management Services, Finance & Insurance Services
Population Demographics: 2010
Total Population
209,233
Males
102,569
Females
106,664
Population by Age
Under 18
55,858
18 & over
153,375
20-24
18,969
25-34
27,558
35-49
36,906
50-64
35,640
65 & over
25,881
Population by Ethnicity
Hispanic or Latino
137,514
Non Hispanic or Latino
71,719
Population by Race
White
154,898
African-American
3,656
Asian
2,227
Native American
3,147
Hawaiian or Pacific Islander
185
Other
38,685
Two or more
6,344
Photos courtesy of the Bureau of Land Management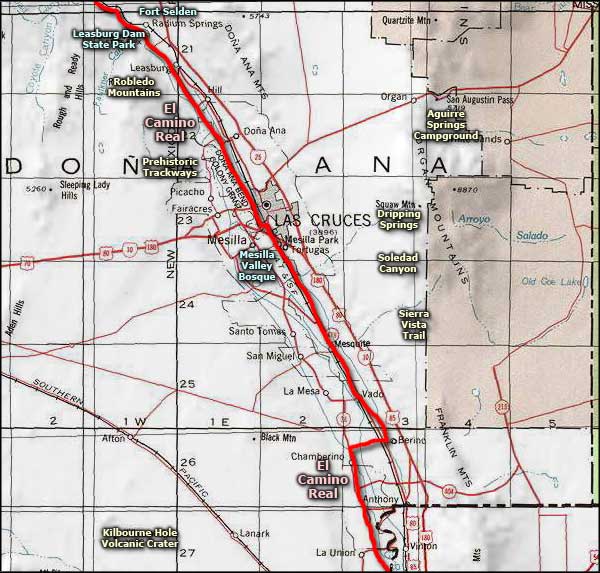 Related Pages
Map courtesy of National Geographic Topo!