Catron County, New Mexico
Catron County is in west central New Mexico with Arizona to the west. This area is home to the Plains of San Augustin and a large portion of the Gila National Forest. Catron County is New Mexico's largest county, and least populated. Catron County is named after Thomas B. Catron, a prominent attorney and politician from Santa Fe, active in the late 1800's.
Formed in 1921, Catron County contains 6,928 square miles of land and 1 square mile of water. The county seat is Reserve.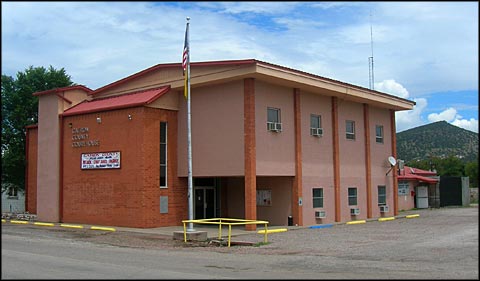 Catron County Courthouse in Reserve
Fast Facts about Catron County, New Mexico
Types of Jobs:
Private Sector, wages or salary: 51%
Government Sector: 28%
Unincorporated, Self-Employed: 20%
Homemaker, Unpaid: 1%
Cost of Living Index for Catron County: 86.3
Median Resident Age: 47.8 Years
2014 Estimates:
Median Household Income: $30,120
Median Home Value: $158,950
Major Industries:
Educational Services, Agriculture & Forestry, Construction, Lodging & Food Services, Government, Health Care, Religious Organizations, Mining, Social Services, Repair & Maintenance, Retail Services
Population Demographics: 2010
Total Population
3,725
Males
1,947
Females
1,778
Population by Age
Under 18
590
18 & over
3,135
20-24
94
25-34
270
35-49
481
50-64
1,211
65 & over
1,041
Population by Ethnicity
Hispanic or Latino
709
Non Hispanic or Latino
3,016
Population by Race
White
3,344
African-American
16
Asian
7
Native American
99
Hawaiian or Pacific Islander
0
Other
142
Two or more
117