Carrizozo, New Mexico
Carrizozo was founded in 1899 by Charles Eddy. He and his brother John were building the El Paso & Northeastern Railroad from El Paso to Santa Rosa. At the location of Carrizozo, they built a spur line east to Capitan. In 1905, the brothers sold the railroad to the Phelps Dodge Company, who promptly renamed it the El Paso & Southwestern. In 1906, Ira Wetmore arrived and began platting the townsite for development. Part of Carrizozo was built on land that was formerly part of the Bar W Ranch, owned by William C. McDonald (who was New Mexico's first elected governor after statehood). The map of Carrizozo today looks very much like Ira Wetmore's original plats.
In the beginning, Carrizozo boomed as a bustling new railroad town. In 1913, the county seat was moved from Lincoln to Carrizozo because of the growth in population and business. However, from the photos on this page, you can see that Carrizozo's fortunes seem to have peaked about the same time the I-25 was built through the Rio Grande Valley some 65 miles to the west, and all the traffic shifted over there.
Carrizozo is somewhat famous for its "burro serenade." While I found lots of burros on 12th Street, they were spread all over town. There seems to be quite a few artists in these parts...
In the spring of 2009, Carrizozo was used as a movie set for The Book of Eli. I saw a few background scenes on the local news and it looked interesting, so I waited for the movie to come out and it turned out to be quite good (to my taste anyway), but Carrizozo didn't look nearly that bad when I was there - I hope they didn't destroy whole sections of the old town for the movie set. While Bill Richardson was governor, New Mexico attracted a lot of movie work. When he was out (term limits), the movie work in New Mexico ground to a near halt: the new Republican governor killed all the tax incentives. So while she "saved" a few bucks in incentive money, she lost all the payroll taxes paid by the local folks who worked on those movies... and all the various sales and other tax monies collected from the folks who came to New Mexico for several months at a time purely to make those movies...
Update: 2016: The governor did finally realize the money from the movies actually helped common New Mexicans in many ways and she restored some of the tax credits and generally made it easier for the movie folks to return. But she has also taken a few other steps that have muddied her regime in other ways... the scene at her birthday party in Santa Fe's Eldorado Hotel was a classic.
The population of Carrizozo is down about 3.9% since 2000. And Carrizozo is still home to the famous "No Scum Allowed Saloon."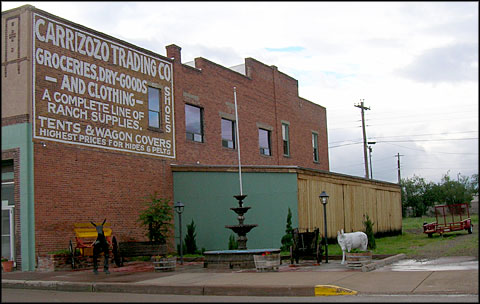 A burro "vignette" on 12th Street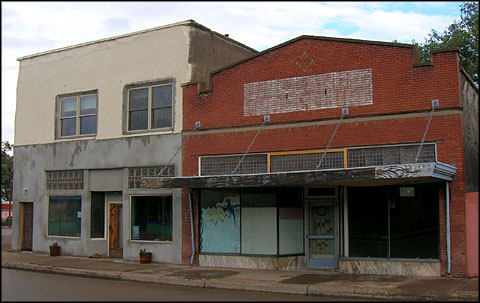 12th Street Shops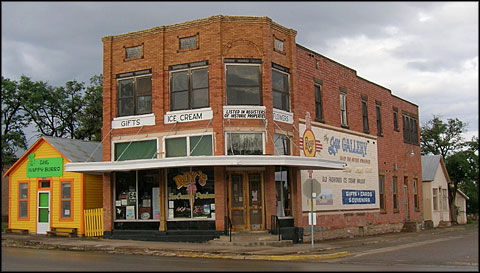 On Main Street
Fast Facts about
Carrizozo, New Mexico
Carrizozo

, Lincoln County,

NM

88301
Latitude:
33.6439°N
Longitude:
105.8774°W
Founded: 1899
Elevation: 5,436'
Education:
High School or Higher: 73.3%
Bachelor's Degree or Higher: 10.4%
Graduate or Professional Degree: 4.8%
Cost of Living Index for Carrizozo: 85.2
2014 Estimates:
Median Household Income: $29,700
Median Home Value: $83,100
Median Resident Age: 43.9 Years
Major Industries:
Government, Construction, Health Care, Lodging & Food Services, Educational Services, Agriculture, Retail Services, Finance & Insurance Services, Social Services
Unemployed (August 2014): 4.6%
Population Demographics: 2010
Total Population
996
Males
545
Females
451
Population by Age
Under 18
159
18 & over
837
20-24
57
25-34
94
35-49
182
50-64
239
65 & over
244
Population by Ethnicity
Hispanic or Latino
434
Non Hispanic or Latino
562
Population by Race
White
784
African-American
7
Asian
0
Native American
26
Hawaiian or Pacific Islander
0
Other
141
Two or more
38
Lincoln County Pages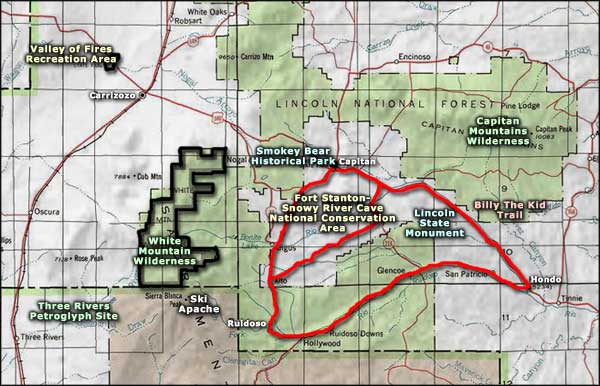 Related Pages
Map courtesy of National Geographic Topo!