Artesia, New Mexico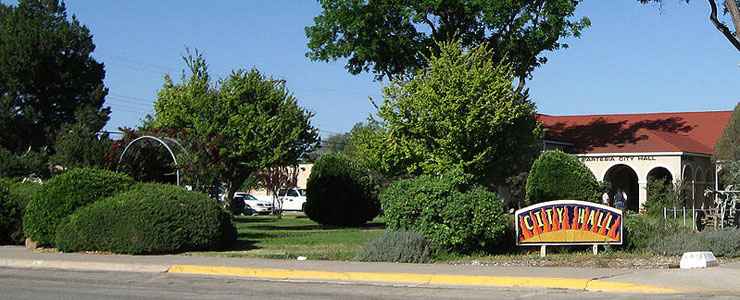 Artesia City Hall
Artesia took on the name in 1903 after an artesian aquifer was discovered in the area. Farmers moved in, tapped that aquifer and irrigated the desert countryside for miles around. Then the aquifer went virtually dry in the 1920's...
In 1962 the Artesia School District opened the only public elementary school in the United States built completely underground. The concrete slab roof is what served for the school's playground. Inside the building was a storage facility stocked with supplies to keep up to 2,000 people alive for an extended period of time in the event of nuclear war.
In 1966 the College of Artesia opened for classes. The school was based on the academic model of Parsons College in Fairfield, Iowa (which is now the Meditation International University): innovative teaching and administrative techniques to work with unconventional students. The school closed in 1971 because of lack of funding, high student turnover and accreditation issues. The campus became the Artesia Christian College from 1975 to 1985, then became a campus of the Federal law Enforcement Training Center, mostly for the training of US Air Marshalls, Bureau of Indian Affairs Police and Immigration and Customs Enforcement officers.
The Man Who Fell to Earth (from 1976 and starring David Bowie) prominently featured the Artesia Restaurant and Hotel as a location. Artesia is also home to the Navajo Refinery, the largest petroleum refinery in New Mexico.
The population of Artesia is up about 7% since 2000.
Fast Facts about
Artesia, New Mexico
Artesia

, Eddy County,

NM

88210, 88211
Latitude:
Latitude: 32.842744°N
Longitude:
104.412315°W
Incorporated: 1905
Elevation:
3,380'
Education:
High School or Higher: 70.1%
Bachelor's Degree or Higher: 12.1%
Graduate or Professional Degree: 2.9%
Cost of Living Index for Artesia: 81.7
2014 Estimates:
Median Household Income: $43,400
Median Home Value: $95,200
Median Resident Age: 34.5 Years
Major Industries:
Natural Resources, Manufacturing, Construction, Lodging & Food Services, Government, Retail Trade, Waste Management Services
Unemployed (August 2014): 3.6%
Population Demographics: 2010
Total Population
11,301
Males
5,503
Females
5,798
Population by Age
Under 18
3,131
18 & over
8,170
20-24
709
25-34
1,532
35-49
2,117
50-64
1,978
65 & over
1,490
Population by Ethnicity
Hispanic or Latino
5,858
Non Hispanic or Latino
5,443
Population by Race
White
8,422
African-American
133
Asian
43
Native American
177
Hawaiian or Pacific Islander
5
Other
2,137
Two or more
384
Photo courtesy of AllenS