Towns and Cities in Nevada
For many years the Federal Government was looking at using the mine shafts beneath Yucca Mountain for the storage of massive amounts of highly radioactive materials being produced by the nation's nuclear energy power plants. There was a lot of protest about this plan, and not just because Yucca Mountain is maybe 50 miles northwest of the metropolitan Las Vegas area. No, the problems stemmed from the presence of major earthquake faults in that area and the possibility that an earthquake could rupture the storage facility and release radioactive materials into the water aquifer that underlies all of southern Nevada. And those materials would eventually be washed further south, polluting the water supplies beneath southern California, too.
Some areas of Nevada were also known for the huge copper mines that operated there. Came a point in their operation where the financial returns didn't justify continued operation of the mines. As the mines shut down, the smelters that served them shut down, too. Then the price of copper rose way up and the minimal returns of copper ore made it plausible to begin operating some of those mines again. However, as much as we might think a domestic supply of copper might make the use of copper less expensive, the mine operators have found that it is cheaper to ship the ore to Japan for processing than to try to re-fit and re-open the smelters here.
NOTE: On many of the pages linked below I try to provide some demographic information. As this information comes from the US Census Bureau, there are a couple of caveats that have to be taken into consideration:
This information cannot be any more accurate than what the Census Bureau itself offers, and some of the numbers are estimates.
The "resident racial breakdown" numbers usually add up to more than 100% because Hispanics are often counted among all the other races.
The median home values include every type of construction that people live in: townhomes, condos, four-plexes, detached homes, mobile homes, etc.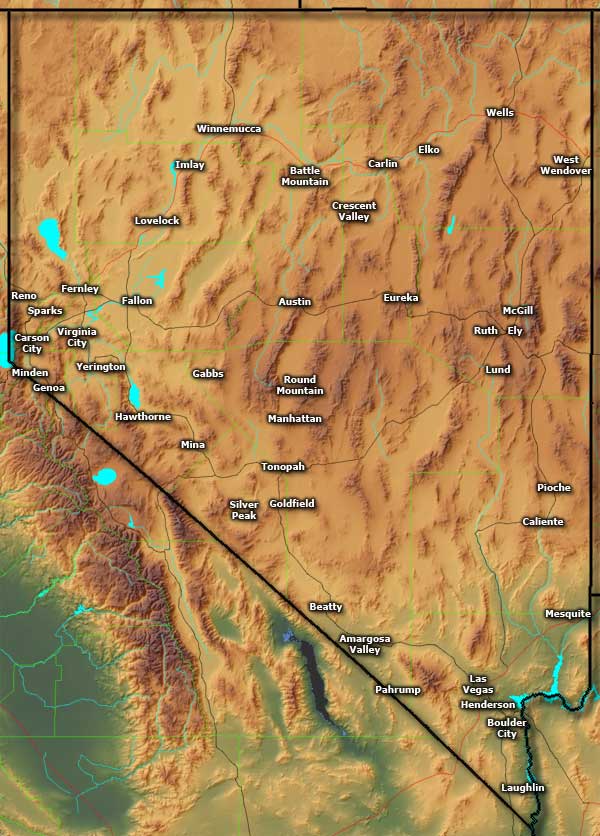 Towns & Places of Nevada
Mt. Stirling Wilderness Study Area
Most photos courtesy of the Bureau of Land Management
Map courtesy of Cartesia MapArt Terrain