Midway Atoll National Wildlife Refuge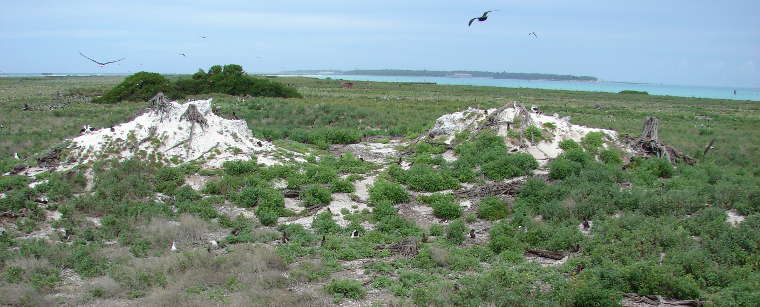 A view on East Island at Midway Atoll National Wildlife Refuge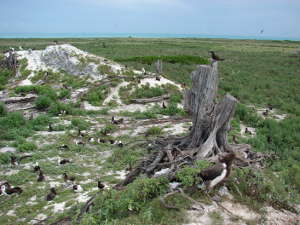 Midway Atoll is probably most known for having been the locale for a major naval battle during World War II, and there are still many artifacts left on the property from the war. Midway became an "overlay" refuge in 1988 as the US Navy was beginning to wind down their operations on the atoll.
By the time the full title was transferred to the US Fish & Wildlife Service in 1996, the resident human population had dropped from about 5,000 to about 40. But the islands also play host to millions of seabirds through the seasons, among them the world's largest population of albatrosses, Bonin petrels and endangered Laysan ducks. The Midway lagoon also sees spinner dolphins, green sea turtles and Hawaiian monk seals.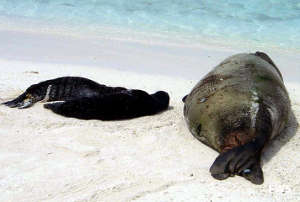 Hawaiian monk seal and her pups
Midway Atoll is located at the far northwestern end of the Hawaiian Archipelago. Midway Atoll National Wildlife Refuge is comprised of some 590,990 acres, extending out to sea for 12 nautical miles from mean low tide water level around the islands and including the islands themselves. The refuge is included within the bounds of the Papahanaumokuakea Marine National Monument. Access is very limited and the refuge sees maybe 300 visitors in a typical year now.
About 3 million seabirds of about seventeen different species live on the islands and there are more than 250 different species of marine animals found in the area. However, more than 75% of the 200 species of plants on Midway Atoll are non-native. Midway Atoll also has a major problem with garbage washing up on the beach. US Fish & Wildlife estimates about 100 pounds of plastic wash up on the beaches every week. The plastic situation is so bad that virtually every albatross and Laysan duck on the islands has 30% (and more) plastic in their digestive tracts. About one-third of the chicks die every year, basically poisoned by the plastic.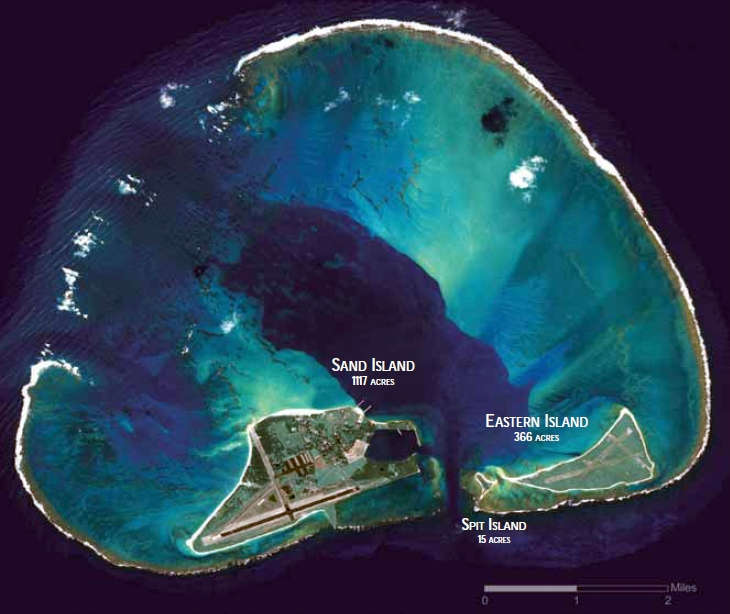 An aerial view of Midway Atoll
Midway Atoll National Wildlife Refuge
Upper photos courtesy of Forest and Kim Starr,
CCA-by-SA 3.0 License
Aerial photo courtesy of the US Fish & Wildlife Service