Yuma, Arizona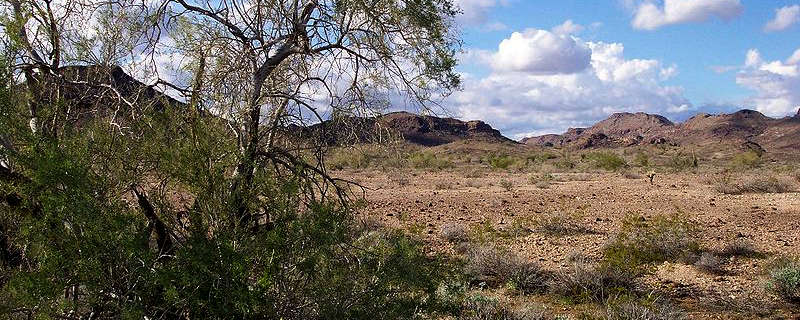 A scene in the desert around Yuma, Arizona
If you remember the scenes in the sand desert during the original Stargate movie, then you've seen some of the countryside around Yuma. Yuma is located just west of the confluence of the Gila and Colorado Rivers in southwestern Arizona. This is heavy Sonoran Desert. The primary reason for the city to be located here was a natural crossing point of the Colorado River.
The first residents in this area were Native American tribes whose descendants now live on the Quechan and Cocopah reservations outside Yuma. The first Europeans to come through were with the 1540 Hernando de Alarcon and Melchior Diaz expeditions. They took word back to New Spain of what they'd found and in 1774, Juan Bautista de Anza led his expedition from Tubac Presidio to California across the Yuma Crossing. The Mormon Battalion also crossed the Colorado River here in 1847.
The 1850's saw a lot of steamboat traffic up and down the lower Colorado River and Yuma was a major seaport for several decades. That's why the Yuma Quartermaster's Depot was built here. Ocean-going ships could sail up to Yuma and unload, then steamboats carried passengers and freight up the Colorado to the many mines and military outposts on both the Arizona and California sides of the river.
1870 saw the Southern Pacific Railroad bridge the river and turn Yuma into an even bigger transportation hub, which it remains to this day. With the construction of I-8, Yuma became a major truck transport hub serving California, Arizona and Mexico. Near Yuma is the Kofa National Wildlife Refuge, a Marine Air Corps Station and the Yuma Proving Ground: a site where the US Army tests new military hardware.
These days, the Yuma Valley is a major center for the irrigated growing of fruit (lemons, oranges, grapefruits, strawberries) and vegetables (lettuce, celery, radishes, peas, beans, etc.). However, in January of 2007, the temperature dropped to 13°F for 2 hours and wiped out 75 to 95% of all the lemon trees in the area.
Between 2000 and 2015 the population of Yuma rose more than 25%.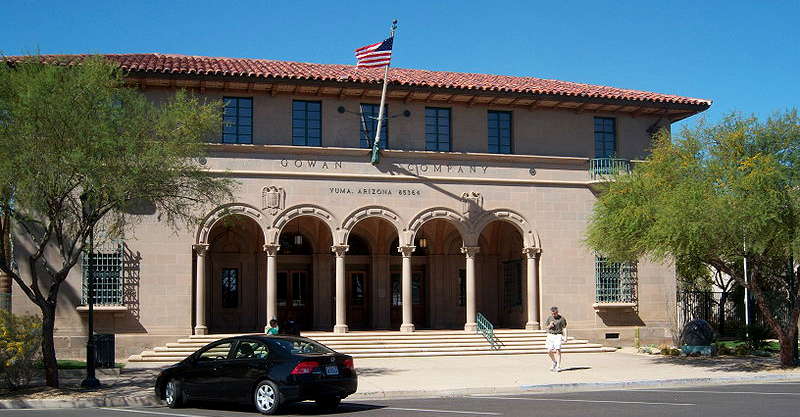 The former Yuma Post Office
, now headquarters of the Gowan Company in Yuma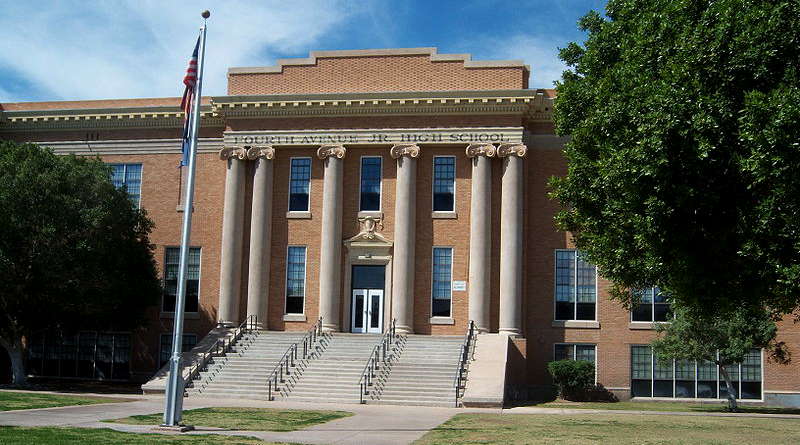 The 4th Avenue Junior High School in Yuma
(lemon trees out front)
Fast Facts about
Yuma, Arizona
Yuma

, Yuma County,

AZ
Zip Codes: 85364-85367, 85369
Latitude:
32.6921°N
Longitude:
114.6154°W
Incorporated: 1914
Elevation:
138'
Education:
High School or Higher: 73.3%
Bachelor's Degree or Higher: 16.2%
Graduate or Professional Degree: 6.5%
Cost of Living Index for Yuma: 89.0
2014 Estimates:
Median Household Income: $41,400
Median Home Value: $128,900
Median Resident Age: 31.3 Years
Major Industries:
Government, Lodging & Food Services, Construction, Educational Services, Health Care, Professional Services, Retail Services, Agriculture, Finance & Insurance Services, Social Services
Unemployed (August 2014): 18.0%
2010 Population Demographics
Hispanic or Latino
51,033
Non Hispanic or Latino
42,031
Hawaiian or Pacific Islander
205
Yuma County Pages
Photo of desert around Yuma courtesy of Jason West
Photos of old Yuma Past Office & 4th Avenue School courtesy of Wikipedia userid Nelro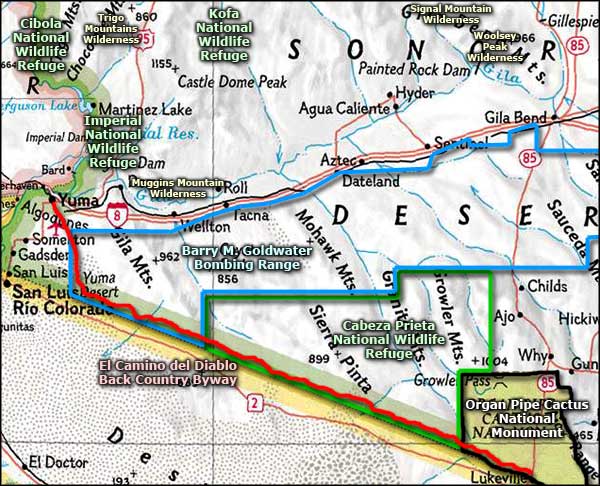 Related Pages
Map courtesy of National Geographic Topo!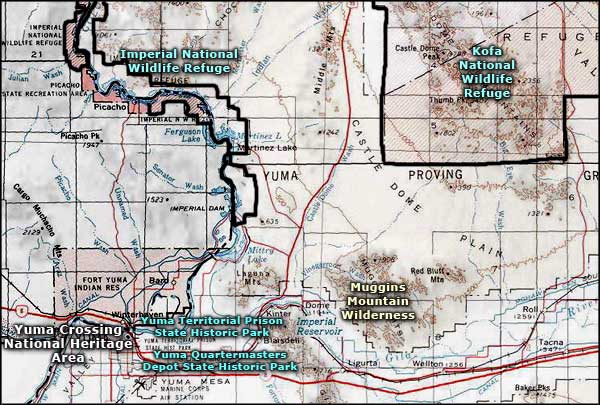 Related Pages
Map courtesy of National Geographic Topo!