Superior, Arizona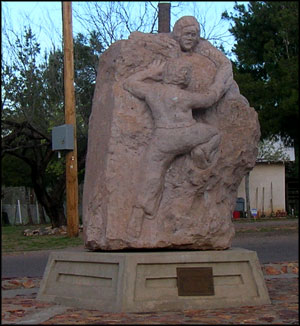 The town of Superior is in northeastern Pinal County at the junction of US Highway 60 and Arizona Route 177. Just west of Superior is the Boyce Thompson Arboretum State Park. This is an area popular with Hollywood, and movies such as Eight Legged Freaks, How the West Was Won, The Prophecy and The Gauntlet were filmed here.
The history of Superior revolves mostly around the mining of copper, silver and gold. An Englishman by the name of George Lobb sold his holdings in the Golden Eagle Silver Mine to the Lake Superior and Arizona Mining Company in 1902, but he stayed in the area and platted the townsite of Superior that same year. He named the town after the mining company. The first postmaster took office in December, 1902.
In 1910, William Boyce Thompson arrived from Montana and bought the Silver Queen Mine (first worked in 1875) and renamed it the Magma Copper Company. Then he bought out Lake Superior and Arizona, adding their properties to the Magma holdings. At first, Thompson sent his ore by wagon to Florence and then by rail to the big smelter at Hayden for refining. Then he built the Magma Arizona Railroad to carry his copper ore from Superior to Webster in 1915. Come 1924 and he finally built a new smelter in Superior. Magma Copper cut back operations in 1981 and since then, Superior has worked to position itself as a tourism and retirement center. As the mines in the Superior area were all underground mines, the possibilities of profitably re-opening any of them are slim to none.
To take the photos on this page, I traveled through Superior early on a Sunday morning in March. Hardly anyone was out and about but that made it easy to get around and take the photos I do have. Sure could have used a cup of real coffee though, that convenience store stuff just doesn't cut it. If only there were enough population to support a real cup of coffee...
Between 2000 and 2014 the population of Superior dropped almost 15%.
Update, 2015: It appears things in Superior may pick up soon. The good Senators from Arizona backed a bill in Congress that gave Resolution Mining a piece of Apache Reservation land that the mining company wanted for the copper underneath... So much for our forefathers' (written, signed, voted on and made into federal law) promises to the tribes.
Fast Facts about
Superior, Arizona
Superior

, Pinal County,

AZ

85273
Latitude:
33.2889°N
Longitude:
111.1039°W
Incorporated: 1976
Elevation:
2,888'
Education:
High School or Higher: 71.0%
Bachelor's Degree or Higher: 7.0%
Graduate or Professional Degree: 2.8%
Cost of Living Index for Superior: 88.9
2014 Estimates:
Median Household Income: $33,700
Median Home Value: $62,800
Median Resident Age: 45.0 Years
Major Industries:
Government, Mining, Construction, Educational Services, Lodging & Food Services, Health Care, Social Services, Arts & Entertainment, Transportation Services, Retail Services
Unemployed (August 2014): 9.0%
2010 Population Demographics
Non Hispanic or Latino
895
Hawaiian or Pacific Islander
0
Pinal County Pages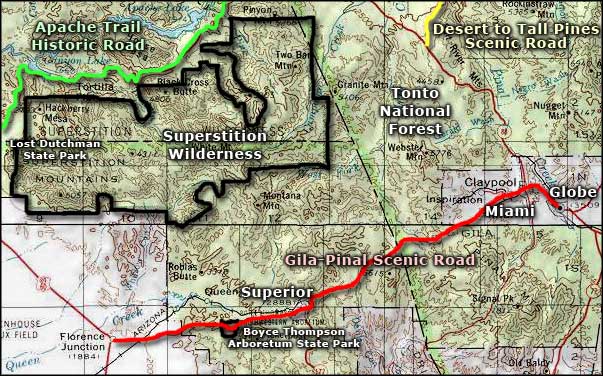 Related Pages
Map courtesy of National Geographic Topo!