Sahuarita, Arizona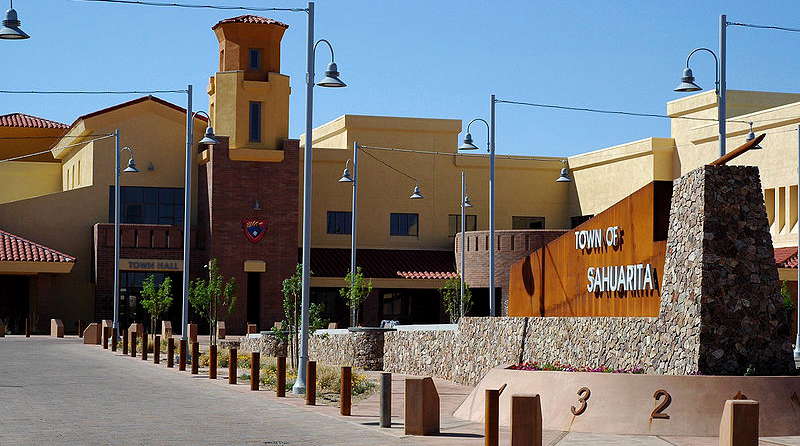 Sahuarita Town Hall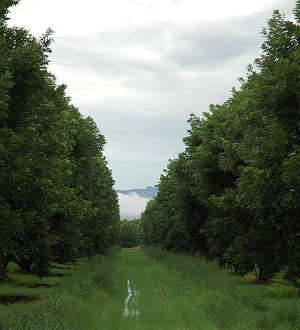 Sahuarita was in Hohokam and Sobaipuri territory from about 200 CE to 1857. It was in 1857 that the Sobaipuri finally gave up on trying to resist the encroachment by the invading hordes of Americans and moved westward into Papago territory. Fort Crittenden was established in the Santa Cruz Valley in 1867 to "protect" incoming settlers from the Native Americans, who were finally forced onto what is now the Tohono O'odham Reservation in 1874.
In 1879, Charles Kilroy Brown established the Sahuarita Ranch and shortly after that, the Southern Pacific Railroad built tracks through the area. Then Brown sold the ranch in 1886 and most development in the area stopped until 1915.
It was in 1915 that Bernard Baruch, Joseph Kennedy and J.P. Morgan founded the Continental Farm of Sahuarita specifically to grow guayule, a rubber-producing plant. They abandoned the project after World War I and then sold the property to Queen Wilhelmina of the Netherlands in 1922. The Queen rented the property to cotton farmers and that was the main crop here for the next 4 decades.
In 1944-1945, a section of land near the Continental Farm was used as a German prisoner of war camp and the prisoners were often found tending the cotton and vegetable crops on the Ranch.
In 1948, R. Keith Walden bought the Continental Farm from the Queen and moved his Farmers Investment Company (FICO) to Sahuarita. In 1965, Walden began changing his principal crop from cotton to pecans, and now, the pecan orchards in Sahuarita cover more than 6,000 acres.
Sahuarita is near the Titan Missile Museum, the only place on Earth where the public can get up close and personal with a Titan II nuclear-capable missile (there is an active one here still standing quietly in its silo).
Sahuarita has a major water problem looming in its near future: at the rate at which water is presently being pumped out of the Upper Santa Cruz Valley aquifer, water supplies are predicted to become critical before 2020.
Between 2000 and 2012 the population of Sahuarita grew by more than 710%.

Sahuarita Lake
Fast Facts about
Sahuarita, Arizona
Sahuarita

, Pima County,

AZ

85629
Latitude:
31.9292°N
Longitude:
110.9822°W
Founded: 1911; Incorporated: 1994
Elevation:
2,844'
Education:
High School or Higher: 85.8%
Bachelor's Degree or Higher: 28.1%
Graduate or Professional Degree: 8.9%
Median Resident Age: 34.4 Years
Cost of Living Index for Sahuarita: 91.0
2014 Estimates:
Median Household Income: $69,200
Median Home Value: $195,100
Major Industries:
Government, Health Care, Construction, Educational Services, Lodging & Food Services, Waste Management Services, Transportation Equipment, Social Services, Arts & Entertainment, Mining, Retail Services, Finance & Insurance Services
Unemployed (August 2014): 7.1%
2010 Population Demographics
Non Hispanic or Latino
17,182
Hawaiian or Pacific Islander
31
Pima County Pages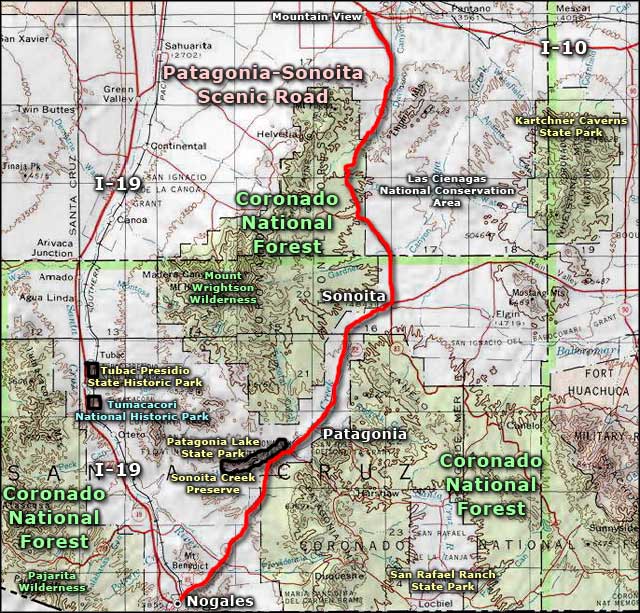 Related Pages
Map courtesy of National Geographic Topo!