Prescott, Arizona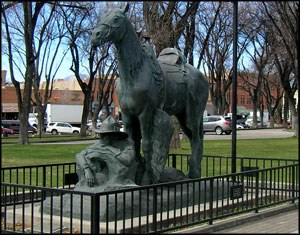 In 1864, the Arizona Territorial Capital was moved to Prescott from Fort Whipple in Chino Valley. Governor John Noble Goodwin selected the site after his first tour of the new Territory. He picked a spot on the west side of Granite Creek in between several mining camps. A few buildings were built and the settlement was named in honor of historian and author William H. Prescott on May 30, 1864 during a public meeting at the site. On June 4, 1864, a public auction was held and 73 lots were sold in the new territorial capital. By July 4, 1864, 232 lots had been sold and the politicking was on. In 1867, the 4th Arizona Territorial Legislature moved the Territorial Capital to Tucson, only to have the 9th Arizona Territorial Legislature return the capital to Prescott in 1877. Finally, in 1889, the 15th Arizona Territorial Legislature moved the Territorial Capital to Phoenix and it has remained there ever since.
There's an area in downtown Prescott named Whiskey Row that contains many of Prescott's historic buildings. In 1900, a large fire destroyed most of the wooden buildings on Whiskey Row but legend has it that many of the patrons of the drinking establishments simply took their drinks across the street and watched the fire burn. As the fire approached the Palace Hotel, they returned and removed the entire bar and back-bar, taking the whole thing across the street to Courthouse Square. When the Palace Hotel was rebuilt in brick, the bar and back-bar were re-installed in their rightful places and are still there today. Just across the street from the Courthouse, Whiskey Row was a notorious red light district until 1956.
Prescott is home to the Arizona Pioneers Home, a continuing care retirement home funded and operated by the state. Originally, it was intended for impoverished early Arizona male pioneers but a women's wing was built in 1916. In 1929 the home was expanded again to include the Arizona Hospital for Disabled Miners. Over the years the Home has seen some colorful residents, one of them being "Big Nose Kate" Elder, the long time girlfriend of Doc Holliday. Another was John Miller who claimed to be Billy the Kid. Someone took him seriously because his body was exhumed in 2005 in an attempt to identify his DNA.
The Tri-City area is comprised of Prescott, Chino Valley and Prescott Valley. The Tri-City area is the third largest metropolitan area in Arizona (after Phoenix and Tucson). Yavapai College has their main campus in Prescott, as does Prescott College. Embry-Riddle Aeronautical University has their western campus here. Old Dominion University and Northern Arizona University also have specialty campuses in Prescott.
Next to (and partially within) the city limits of Prescott is the Yavapai-Prescott Indian Reservation.
Between 2000 and 2014 the population of Prescott rose more than 20%.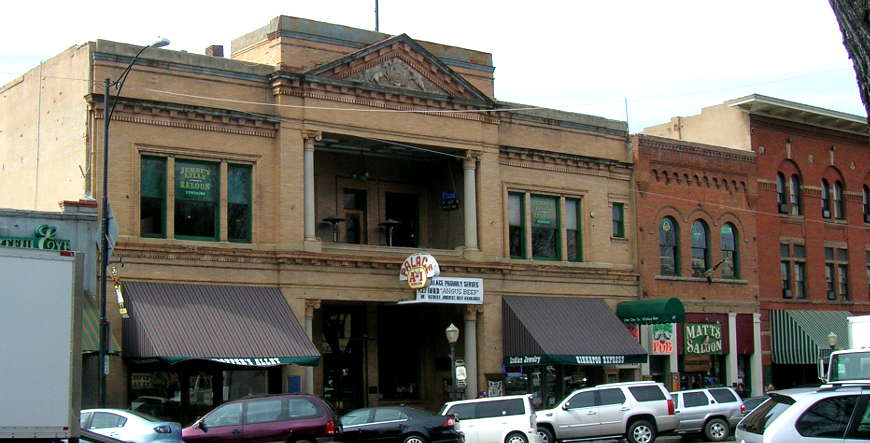 The Palace Hotel & Bar on Whiskey Row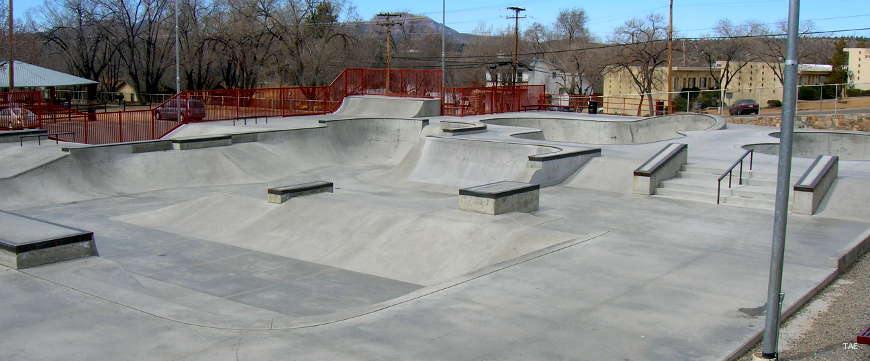 The Prescott Skate Park
Fast Facts about
Prescott, Arizona
Prescott

, Yavapai County,

AZ
Zip Codes: 86300-86305, 86313
Latitude:
34.5682°N
Longitude:
112.4615°W
Incorporated: 1883
Elevation:
5,368'
Education:
High School or Higher: 89.6%
Bachelor's Degree or Higher: 30.6%
Graduate or Professional Degree: 12.3%
Cost of Living Index for Prescott: 92.8
2014 Estimates:
Median Household Income: $41,500
Median Home Value: $224,000
Median Resident Age: 54.1 Years
Major Industries:
Educational Services, Health Care, Lodging & Food Services, Construction, Professional Services, Government, Finance & Insurance Services, Social Services
Unemployed (August 2014): 9.3%
2010 Population Demographics
Non Hispanic or Latino
36,401
Hawaiian or Pacific Islander
48
Yavapai County Pages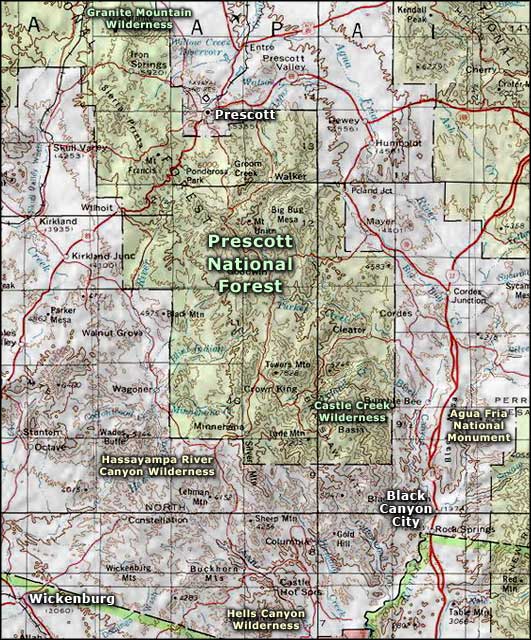 Related Pages
Map courtesy of National Geographic Topo!