Jerome, Arizona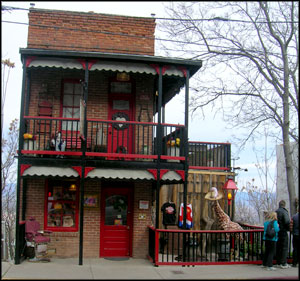 The Spanish were mining silver and copper in the area around Jerome for many years when they still held New Spain but it stopped in the aftermath of the Mexican-American War. American mining interests didn't take much interest until a larger copper strike happened in 1876. The 3 prospectors involved sold their claims to the United Verde Copper Company in 1883 and that company began development of a large, open pit copper mine on the site.
Jerome was built on the side of Cleopatra Hill near the mining claims and was named for Eugene Murray Jerome, the New York investor who owned the mineral rights and financed the original development. Come 1912 and William Clark of Montana (one of the Copper Kings of Butte) bought in and took on the job of overseeing the development and building of the smelter and housing for the workers in Clarkdale. Eugene Jerome never visited the site.
James Douglas bought the nearby Little Daisy mine and moved to Jerome in 1912. In 1914 his long-shot gamble paid off: some of his workers cut into the downfaulted extension of the United Verde ore body, a much richer vein of copper ore than they had been exploring. Douglas ramped his production up quickly, just about the time copper prices were rising at the beginning of World War I.
Between 1883 and 1953, the copper mines in the Jerome area produced more than $1 billion in copper, silver and gold.
In the beginning, Jerome was a hotbed of prostitution, gambling and other vices (typical Wild West mining town). The New York Sun proclaimed in an editorial on February 5, 1903, that Jerome was "the wickedest town in the West." A few years later the Industrial Workers of the World began trying to unionize miners and smelter workers in the area, resulting in the Jerome Deportation. That event started with the rounding up of all the labor union organizers and unionized miners and loading them into railroad cattle cars on July 10, 1917. The train then moved slowly and finally stopped to allow the men to get off in the desert near Kingman on July 12. They were all warned not to return to Jerome if they valued their lives. Incidents like this were going on all over the West in those days as the mine owners resisted having to pay decent wages to the men and having to implement reasonable safety measures in the mines (in 1916 alone, "Rawhide Jimmy" Douglas' mine produced $10 million worth of copper, silver and gold, of which $7.4 million was profit).
Between 1897 and 1899, 3 fires in Jerome nearly burned down the entire town. Jerome reincorporated itself as a city and adopted a building code requiring that all new construction be of masonry or brick. That helped a bit but in 1915, the brick-built Montana Hotel burned. Another problem in town was the underground blasting. One blast in the 1930's caused the town's jail to slide one block down the hill and land still intact. 1918 saw underground fires start that burned out 22 miles of tunnels. One of the underground fires burned for more than 20 years. The fire problem forced the United Verde to change tactics and dig a huge open pit mine. In 1929, Jerome's population topped 15,000, then came the Stock Market crash. By 1932, copper was fetching $0.05 per pound. United Verde closed until Phelps Dodge bought the property in 1935 for $21 million. Jimmy Douglas's mine finally ran out of ore and closed forever in 1938. World War II brought prosperity back but the end was in site. The Clarkdale smelter was closed in 1950 and the United Verde mine shut down all operations in 1953. By the late 1950's the population of Jerome was hovering around 50. In 1967 Jerome was designated a Historic District and became a National Historic Landmark in 1976. That's when Jerome began the long journey back to life.
Today, Jerome has become a tourist destination and artist haven with 2 hotels and numerous bed & breakfasts now open. New restaurants have opened and 2 bars (one of them being Arizona's oldest family owned drinking establishment) regularly have live entertainment on weekends. There are more than 30 working studios and art galleries in Jerome. The old Jerome High School has been converted into studios and many artists now call that building "home." The community organizes several events each year so that artists and craftspeople can display their wares in open-air settings around town. And "Rawhide Jimmy's" mansion is now the Jerome State Historic Park.
For these photos, I was in Jerome in early March, 2009. The town was packed and parking spots were very few and far between. The restaurants were full, the shops had lots of customers and Jerome State Historic Park was, of course, closed.
I revisited Jerome in the fall of 2015. Town wasn't so packed, the streets were virtually empty and parking spots were everywhere...
Between 2000 and 2015 the population of Jerome rose more than 35%.
Jerome's Catholic Church
Fast Facts about
Jerome, Arizona
Jerome

, Yavapai County,

AZ

86331
Latitude:
34.7483°N
Longitude:
112.1108°W
Incorporated: 1899
Elevation:
5,057'
Education:
High School or Higher: 93.4%
Bachelor's Degree or Higher: 31.7%
Graduate or Professional Degree: 7.8%
Cost of Living Index for Jerome: 92.9
2014 Estimates:
Median Household Income: $55,000
Median Home Value: $186,600
Median Resident Age: 54.6 Years
Major Industries:
Lodging & Food Services, Arts & Entertainment, Educational Services, Retail Services, Construction, Health Care, Professional Services, Real Estate Services
Unemployed (August 2014): 8.8%
2010 Population Demographics
Non Hispanic or Latino
419
Hawaiian or Pacific Islander
0
Yavapai County Pages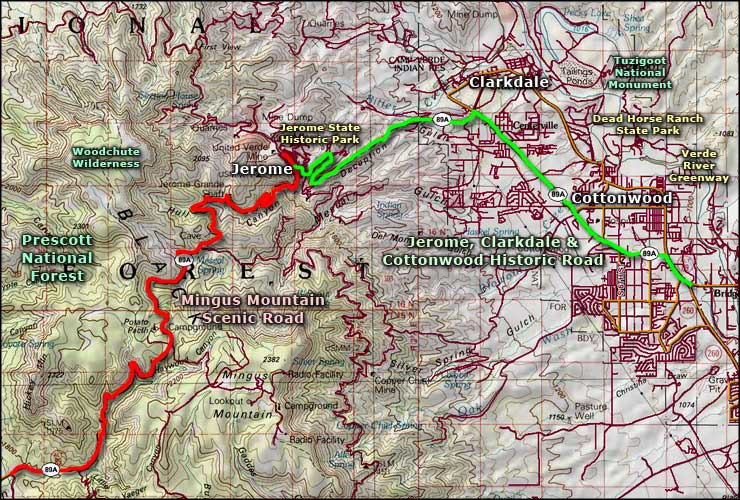 Related Pages
Map courtesy of National Geographic Topo!