About This Site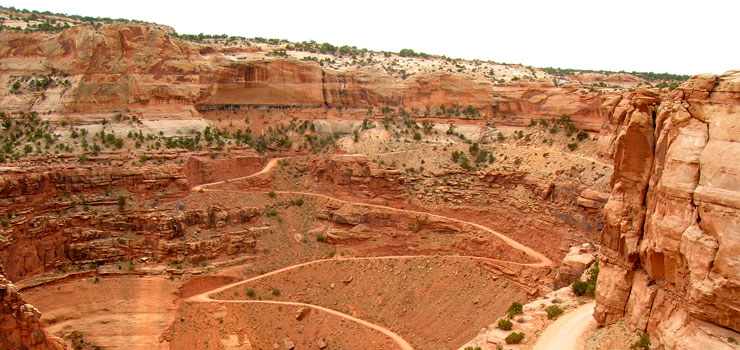 The Shaffer Trail, Canyonlands National Park, Utah
After 10 years as a member of the Board of Directors of the Scenic Highway of Legends in Colorado, I attended the National Scenic Byways Conference in Denver in late August, 2009. It was an inspiring 3-day event filled with great informative workshops and round-tables. But I particularly enjoyed the opportunities to meet and network with folks from all walks of life who were there to participate in the program, sharing what they knew and learning more. And it wasn't just people from individual byways, there were representatives from the Federal Highway Administration, Bureau of Land Management, National Park Service, National Forest Service, U.S. Fish & Wildlife Service and the Bureau of Indian Affairs. There were also a number of people who were individual state coordinators for the National Scenic Byways program and more than a few people representing the Tourism offices of various state governments. The majority of the event facilitators were from the National Scenic Byways Office in Duluth, Minnesota (which office is now closed due to Congressional budget cuts).
In the afterglow of that conference, I decided to move forward with the construction of this web site. I made the decision to move forward as a private (but engaged) citizen. As a private citizen there are things I can do that government-funded and 501(c)(3) organizations can't do. As a private citizen I also don't have any questions in regards to my mission and the "purview" of my efforts. I am also not restricted by certain elements in the federal legislation and certain requirements that the various organizations are required to meet, as long as I do meet the standard obligations incumbent on any publisher, whether in print or on the web.
Therefore, the effort I have put in to build this site is fully dependent on the amount of "free" time I have on my hands and my ability to do research and compile pertinent data for the task at hand. This entire project is financed through private means and through the use of advertising.
As of July 18, 2012, I began creating this website from scratch again, adding yet more stuff to be filled out in the future but also bringing the coding more into compliance with Section 508 of the Federal Rehabilitation Act. Section 508 deals with issues of Internet accessibility for Americans with Disabilities: up to 20% of Americans who access the Internet do it through the use of screen readers or other assistive technology. My effort is to help to accommodate those folks in the mainstream of American discourse. Complicating this process a bit is the fact that Section 508 was developed before the advent of the Internet and things have evolved a fair bit beyond the original languaging of that law. So my effort also includes trying to keep this site up to date in terms of WCAG and WAI-ARIA, both initiatives overseen by the World Wide Web Consortium (W3C) in their efforts to promote web standards. The state-of-the-art in code comes up a bit short in these areas and I am also human so there are a few places where something might get missed. But regular testing on my part shows essentially 95+% compliance throughout the site.
Here's to hoping I am successful with this endeavor: Cheers! ...and see you out there, somewhere among the Sights and Sites of America.
Update: March 2015: As a grandparent raising two grandchildren, my free time available to work on this site takes a hit regularly. Then last summer I began fainting every time I got stressed. That led to open heart surgery (aortic valve replacement and a triple bypass) that stopped me almost dead for a while (no pun intended). My lifestyle isn't back to normal yet but there's a light growing at the end of that tunnel... hopefully it's not from an oncoming train... wait a minute: haven't the latest Congressional budget cuts turned out the light at the other end of the tunnel?
Update: January 2016: In my efforts to reignite the light at the end of my tunnel I attended a local Startup Weekend event. My team won. Shortly we had 3 wins for the team and were accepted into a business accelerator. Now I have two near-full-time jobs and the light seems to be getting brighter... or is that just my eyes straining harder...
About "The House of ChaRuut:" This is an anagram of my grandchildren's names and we truly are "The House of ChaRuut" as virtually everything in my life revolves around them, and will for the foreseeable future.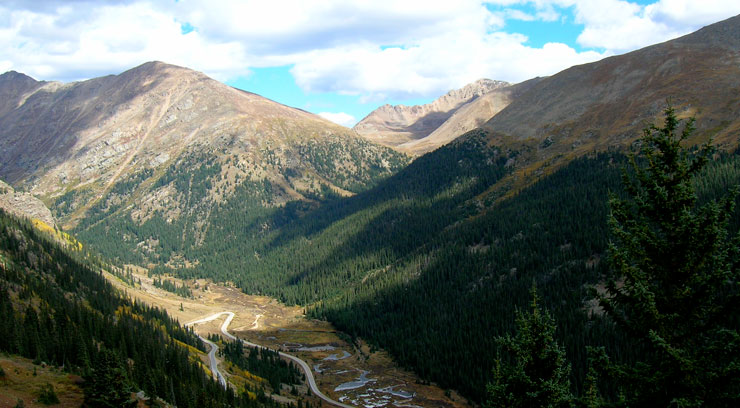 View from Independence Pass, Top of the Rockies Scenic Byway
San Isabel National Forest, Colorado